5/6/2020
Inside the Theater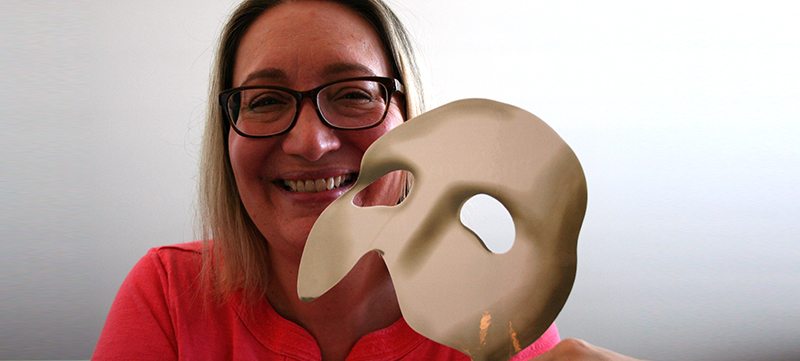 When audiences return to The Smith Center, behind-the-scenes workers will find themselves busy as ever prepping for world-class music, theater and dance productions.
Ticket holders rarely see these important workers in action, performing duties such as constructing sets, providing lighting and sound, assisting artists and far more.
To recognize these hardworking team members, The Smith Center continues its special blog series that gives a glimpse into their daily roles.
Today's article in this series highlights Ellen Szorady-Childs, theater operations manager at The Smith Center.
*Theater terms defined in italics.
Question: How many years have you been in the performing arts industry?
Ellen: Thirty. My first gig was straight out of college, working at the Huntington Theatre Company in Boston.
Question: Can you describe your job in a few sentences?
Ellen: I help advance all the shows in our Reynolds Hall theater. This means we reach out to each show's technical team to determine everything they will need to do their show: sets, lights, sound, musical equipment and number of dressing rooms.
We determine the number of stage crew* members they will need to get the show in and out of the venue.
I also process IATSE* payroll, and do all the administrative work for The Smith Center's stage crew.
*Stage crew: The collective term for theater workers who supervise and operate the technical aspects of a production, spanning lighting, sound, stage and wardrobe
*IATSE: a labor union representing over 140,000 technicians, artisans and crafts persons in the entertainment industry
Question: What's a typical day like for you… Or is there a typical day?
Ellen: There's no typical day! My responsibilities change depending on what artist we have in that day.
For instance, I'll get them rehearsal space on site if needed, make sure their IT needs are met, make sure the crew gets paid properly, and even make sure they have catering set up.
Question: What are the greatest challenges of your job?
Ellen: Keeping everything straight. We have over 200 shows each year (in the Reynolds Hall theater) and it gets crazy. Sometimes we have seven different artists in, during one week.
Question: What are your favorite aspects of your job?
Ellen: I love that it's never the same! I also love meeting the visiting artists and crews. Lots of old friends out there.
I really enjoyed meeting David Byrne, and especially "Weird Al" Yankovic. I love our diversity of shows!
Question: Do you have a stand-out memory from your work with The Smith Center so far that you would like to share?
Ellen: My favorite engagements are the educational programs and student matinees we provide. I also love the Heart of Education Awards (honoring outstanding teachers) and Camp Broadway (The Smith Center's musical theater camp).
There's nothing like seeing children's faces experiencing live theater for the first time.
Question: Is there anything about The Smith Center that sets it apart in your line of work?
Ellen: What sets us apart is the diversity of artists and shows we bring in. It keeps us on our toes, and exposes our community to a lot of great artists that wouldn't normally perform in Vegas.