11/16/2018
Community Impact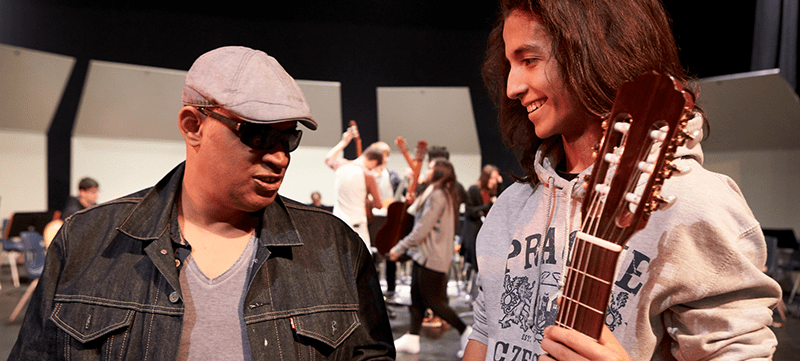 As guitarist Raul Midon's fingers nimbly skipped down the frets of his instrument on stage at Las Vegas Academy, the over 300 students in the audience cheered at his fiery improvisation.
None were phased by the sunglasses on the Grammy-nominated artist's face, a subtle reminder of his lifelong blindness.
That's because musicianship was the focus of this special workshop arranged by The Smith Center in early November, during which Midon — prior to his evening concert at Myron's Cabaret Jazz — conducted complex guitar demonstrations and discussed music theory and composition with hundreds of music students from across Clark County School District (CCSD).
The Smith Center, a nonprofit organization, organized this workshop in addition to recent coordination of performances by deaf singer-songwriter Mandy Harvey at CCSD schools.
"I thought (Midon) was really inspirational," said 16-year-old guitar student Joey Sanders. "As a songwriter and singer myself, hearing all of the techniques he used was really amazing."
Lessons from a Leading Artist
Midon shared insights from his personal artistic journey, including recording as a session musician with top artists like Christina Aguilera.
"Despite the fact that I couldn't see, it didn't matter, because I could memorize so much music," he explained.
These experiences shaped his own growth as a singer-songwriter, he added, especially his preference for improvised guitar riffs.
"I was in Shakira's band for a couple years, and we played the same thing every night in the same order in the same way, and I said, 'You know what? I want to do it differently,'" he said.
Demonstrating the result, he performed a variety of his original pieces that showcased his blend of numerous musical stylings, spanning jazz, flamenco, rap and even vocal trumpeting.
In between songs, he touted the importance of seeking a mentor and practicing, reflecting on his own intense training in jazz, classical and flamenco.
"People say, 'You have this different way of playing, you must have just learned it,' but there's a lot of training that went on," Midon said.
Leaving a Lasting Impact
Guitar student Chloe St. George said the workshop left her impressed at Midon's success with fusing so many different musical styles.
"I think it's important for us as musicians to have that in our own style, to have variety," the 18-year-old said. "I really enjoyed that he showed us students that it's practical."
Student Makenna Marossy, who also plays guitar and composes her own music, said she felt motivated by how Midon overcame his disability to achieve such success as an artist.
"Hearing that he put in that much work makes me want to work harder," she said.
Learn More
Thanks to public support, The Smith Center provides education and outreach experiences for tens of thousands of Southern Nevada students and teachers each year, at no cost to schools.