8/1/2015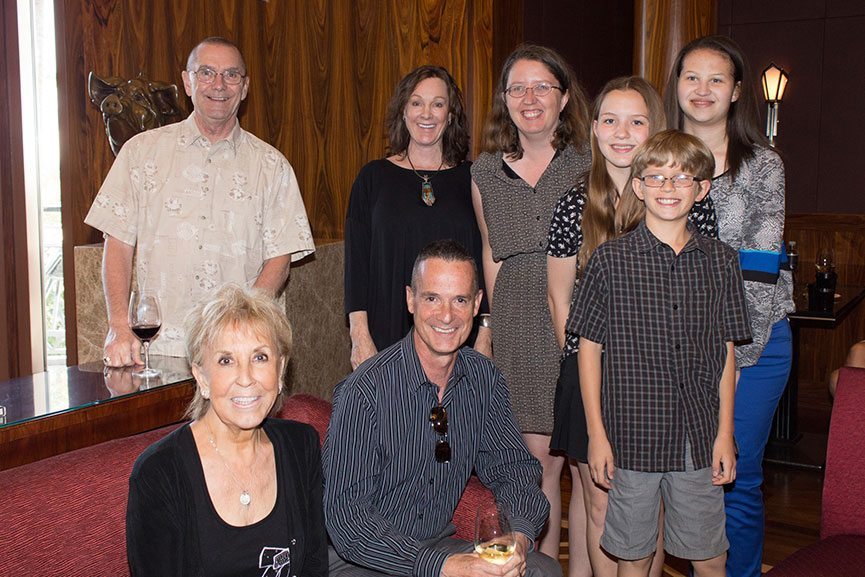 If you have ever had the good fortune to meet Bonnie Lemert you have no doubt been captivated by her boundless energy and infectious enthusiasm. Bonnie is a subscriber to the Broadway Las Vegas series and a regular donor to The Smith Center annual fund. She is a tireless advocate for the arts and a champion for environmental causes and clean energy.
Bonnie retired to Henderson after a career with U.S. Customs & Border Protection. After serving in duty stations along the U.S.-Mexico border, teaching at the Customs Academy and stops from New Orleans to Long Beach, she plans to break her lifetime record by living in one place longer than 7 ½ years. We are fortunate – and grateful! – that Bonnie has chosen to make The Smith Center a part of her priorities.
Bonnie, you've been a subscriber from the very first season. Why is The Smith Center important to you?
When I first heard about The Smith Center I was still relatively new here. I'll admit that I simply thought "hey, that sounds like it will be a neat place once it opens," and I subscribed to the first Broadway series, sight unseen. It was about a year later that I understood how much more The Smith Center offered to the community – such as theeducation and outreach programs – and I knew I wanted to support it more than by simply buying tickets.
The more I learn about what went into the long-term vision, planning, and financing of The Smith Center, the more appreciative I am of the extremely generous contributions provided by the founders, the community, and business leaders to make it a sustainable reality. And I was so pleased to know that environmental concerns were factored into the planning. (The Smith Center received LEED certification from the U.S. Green Building Council.)
What have been some of your favorite shows or performances?
I'm partial to shows like Kinky Boots with a lot of humor and uplifting songs. They have a great message and you leave smiling. There are enough serious things in the news every day, so the fun stuff is more my speed. I also enjoy the Cabaret Jazz venue with great entertainers like Clint Holmes and Frankie Moreno, among others. There is definitely something for everyone's taste at The Smith Center.
However, my most memorable event was February 2013 when I attended the afternoon sound check for a Tribute to Ella, Joe and Basie, with the Count Basie Orchestra. It was my first education/outreach event after becoming a Carillon Circle donor. About 200 local high school students were there learning what went into live performance preparation before they were treated to the "real" show that night. Their coordinator told the students that their attendance was possible due to donors. I felt tears in my eyes knowing I played a small role in this. You never know what will grab a young person's interest and it was amazing to see them so focused…not a cell phone in sight! Magic!
It seems like we always see you with a group of friends and family and we appreciate that.? Do you feel it's important to share the arts with others?
I truly enjoy introducing others to The Smith Center, not only for the pleasure of the events we attend, but also to have an opportunity to share information about the education and outreach programs. First-time attendees are always impressed by the facility and the community involvement.
Whenever I meet someone local, I find myself asking if they have had a chance to attend anything at The Smith Center. Many have heard of it but have never been there. So, of course, that gives me a mission to accomplish! I've been called the "social director" by some of them, but I think they mean that nicely! Everyone has busy lives and if I can introduce them to a new place by sometimes taking care of the arrangements, that benefits everyone.
The variety of entertainment and speakers is phenomenal. Let's face it; where else do you see everything from Les Miserables to Captain Kirk (William Shatner)?
Why is supporting the arts needed in our community?
Why not support the arts? Everyone of all ages has different talents and interests. Where would many of us be if we had little or no exposure, not only to the arts, but to other important programs: academics, trade, technical, and athletics? I feel this experience is part of developing well-rounded students and future community leaders.
What show or performance are you most excited about this season?
Dirty Dancing was one I was very excited to see; who doesn't love that plot? It did NOT disappoint! It will be interesting to see IDAHO: The Comedy Musical since it is a new show and locally grown!
If you could tell everyone just one thing about The Smith Center, what would it be?
You might be surprised at how much more The Smith Center is than just a great place to see wonderful entertainment!