2/20/2020
Education and Outreach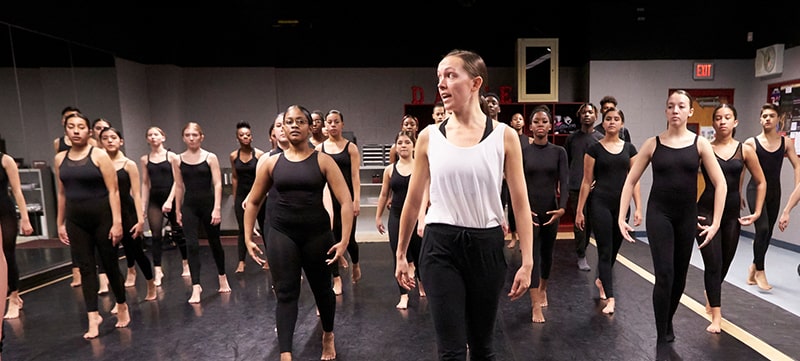 Students at Del Sol Academy of the Performing Arts rarely have the chance to learn from professional dancers — let alone performers from one of America's most acclaimed companies.
Yet 80 students enjoyed this very experience in January, with a special opportunity provided through The Smith Center, a nonprofit organization.
The center arranged for members of the Repertory Dance Theatre (RDT) of Utah — the oldest and most successful repertory dance company in the United States — to give master classes to four of the school's dance classes.
"(The RDT dancers) made sure to create a new and innovative class each and every time," says the school's dance teacher. "Each class was different, and it was incredible."
The Smith Center also organized for RDT artists to give intensive workshops, master classes, teacher workshops and performances at KO Knudson Middle School and Gilbert Academy of Creative Arts.
This program was supported by the Nevada Arts Council, a state agency, which receives support from the National Endowment for the Arts, a federal agency.
The Del Sol teacher describes the master classes as "priceless" in motivating students to push for excellence.
"Kids who are able to see, hear and touch real, working professional artists are more likely to be inspired and driven toward their goals," she says.
Working with Leading Artists
The RDT dancers taught each Del Sol class modern choreography, introducing many students to a style they don't often learn.
The elite artists also provided feedback for each individual student, with tips spanning hip movement, weight distribution, artistic interpretation and more.
"It gave the students an opportunity to grow, and provided a perspective that was new," their teacher says.
Inspiring Students for the Future
After working closely with these top performers, many students hailed that they had expanded their technique and felt inspired.
"It just made me want to go to college even more," says a 17-year-old student who aspires to become a teacher.
Just like the RDT dancers did in the master class, the student hopes to educate and empower teenagers.
"(The master class) pushed me to work hard and learn more," the student says.
Another student aiming to become a professional dancer lauded how the RDT cast demonstrated "new ways to think about movements I've been doing for years."
This experience makes the student feel that a dance career is achievable.
"Seeing those who succeeded in the dance field helps me strive to do the same," the 18-year-old says.
One student's favorite moments included seeing the class work together to perform a new dance the RDT dancers choreographed.
"It was so nice to see (my peers) light up," the student says. "My greatest takeaway from the class was to never give up, and always keep trying new things."
The master class proved both "really challenging and eye opening," one 16-year-old admits.
"It taught me that if I do pursue dance as a career, I have to keep pushing and growing with all types of dance styles," the student notes.
The greatest lesson the student absorbed was "it's OK to let go," the student adds.
"It meant to me that if I want to be a professional or continue my dance journey, I just need to enjoy everything," the student observes. "Taking the class showed me that hard work really does pay off."