6/12/2019
Education and Outreach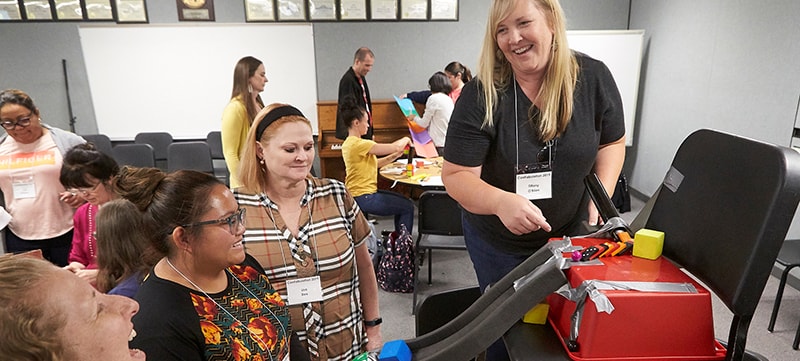 The Smith Center Partners on Annual ConFABulation Event for Arts-Based Teaching Methods
Imagine children learning about historical figures by writing hip-hop songs about them.
Or, picture students using cutting-edge, green-screen technology to create their own videos exploring classroom topics.
Do these sound like concepts out of a movie, or maybe from the future?
Think again — these will be utilized soon in Southern Nevada schools.
That's because The Smith Center for the Performing Arts, a nonprofit organization, partnered on providing the sixth-annual ConFABulation Summer Institute this June to train hundreds of educators in groundbreaking, arts-based teaching methods.
With roughly 300 Southern Nevada teachers attending — plus a handful from Colorado and Hawaii — this multi-day event offered training sessions with nationally acclaimed teaching artists, whose careers include working with Kennedy Center programs and leading workshops across the U.S.
Their training sessions covered inventive, educational techniques useful for all curricula, including engaging students with green screens, hip-hop, Claymation and even building digital escape rooms.
"Every training session was valuable to me," says event participant Dana Boam, a reading teacher at Desert Rose High School in Las Vegas. "I signed up for my first ConFABulation event without knowing much about it, and have returned every year since, because I am rejuvenated and replenished at the end of the sessions."
This annual event occurs through a partnership between The Smith Center, Clark County School District and Doral Academy of Nevada.
"There are so many ways to integrate the arts in the classroom, which helps students experience and grasp lessons on a deeper level," says Candy Schneider, vice president of Education and Outreach at The Smith Center. "This event allows teachers to explore creative, new ways to connect with students."
Hip-Hop and Filmmaking in the Classroom
Enthusiastic about teaching styles that expand beyond standardized testing, Boam intends to use numerous educational tools she learned at this year's ConFABulation event.
She especially enjoyed national teaching artist Bomani Armah's session, demonstrating how to teach the achievements of Frederick Douglass by helping students craft hip-hop songs.
"Rather than trying to divert students' interest from their music, Bomani's method integrates that love with the fundamentals of writing and acquisition of content knowledge," Boam says.
She also felt inspired by a session with director and playwright Mary Hall Surface, on crafting monologues to confront cultural stereotypes.
A training session on using the Metaverse app to create a digital escape room, Boam adds, gives her a fun way to show students "a realistic combination of art and science."
Fellow ConFABulation participant Cassie Barnes plans to now use green-screen and Claymation technologies in her teaching, after she learned how these can help students lead lessons.
"I am now rethinking my approach to new topics," says Barnes, a music specialist at Walter Bracken STEAM Academy. "Arts-based methods provide a deeper understanding of concepts, as well as providing a hands-on approach to learning."
An Engaged Teaching Approach
This isn't news to Armah, who sees educators transform their approach in the classroom using his unique method of teaching with hip-hop.
Many aspects of hip-hop weave seamlessly into learning, he says, including call and response, repetitive choruses, and the mathematical process of arranging syllables in a rhythmic flow.
"Rhythm and rhyme are natural teaching tools in every environment," Armah explains. "I notice much the same thing that inspired the iconic children's show 'Sesame Street,' as its founders state that seeing children recite commercial jingles effortlessly led them to integrating music into their show."
He hopes that many more teachers will start using arts-based methods, he adds, including through events like ConFABulation.
"I am inspired by teachers who are dedicated to continuing to learn and perfect their craft," he says.
LEARN MORE
Learn more about The Smith Center's Education and Outreach programs by clicking here.