10/8/2019
Performances and Artists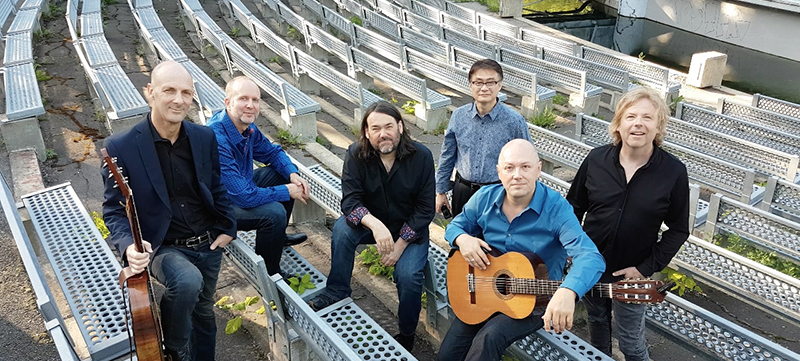 Guitar Trios Merge to Perform Many Genres
Ask the Montreal Guitar Trio if the group specializes in any genre, and the members give different answers.
As teenagers, they blasted rock and metal. During their training at Montreal University, they honed classical pieces. As the three have aged, they now celebrate jazz and world music.
"Our specialty is the blending of all this," says member Marc Morin, of the fiery stylings the trio performs across North America, Europe, New Zealand and Australia.
This group isn't alone in adapting dramatically different styles for guitar.
The California Guitar Trio — hailed for its 15 albums streamed over 59 million times on Pandora — has also cemented its reputation for shattering musical molds.
That includes playing a Beethoven symphony on steel guitars, and reimagining hits by The Beatles and Beach Boys.
"The California Guitar Trio are basically rock guitarists who took a long musical journey that brought them to play (classical music), and the Montreal Guitar Trio are classical guitarists who took a long musical journey that brought us to play Rush and Radiohead," Morin says.
This rare overlap marks the very reason these two acclaimed trios often combine — forming an all-star sextet of guitar masters.
Together, they have performed in over 100 cities across North America, and will bring their inventive arrangements and elaborate originals to Myron's Cabaret Jazz on November 9.
"The two groups are the perfect complement to the other," Morin says.
Six Isn't a Crowd
While six guitars on stage might sound a little crowded, Morin assures the artists' decades of experience merge seamlessly.
"Arranging and orchestrating guitars is our job," he explains. "With the sextet, we only have more tools, more ingredients available."
Each of these guitar virtuosos offer plenty to work with.
The California Guitar Trio's members polished their talent at leading university guitar programs around the world, including the Berklee College of Music and the prestigious Royal Conservatory of Music.
International and national television audiences have heard their recordings featured during Olympics coverage, as well as with hit programs on CNN, CBS, NBC and ESPN.
Meanwhile, the Montreal Guitar Trio has applied their classical training toward touring the world for 15 years.
Combine them all, and audiences can expect staggering technical prowess, Morin assures.
"This mastery gives freedom, and that freedom allows us to make the show very dynamic with big contrasts," he says. "That's what the audiences react to."
A Concert to Span All Styles
These big contrasts could potentially include complex instrumental arrangements spanning pop icons such as Queen, The Beatles and David Bowie, as well as any varieties of jazz, surf rock, Argentinian tangos, and far more.
The musicians will also sprinkle in a delightful mix of storytelling and humor, all drawing from their unique international perspectives, as the six artists hail from countries including Germany, Japan, America and Canada.
While they remain eager to showcase their skilled musicianship, Morin emphasizes the focus ever remains on providing electrifying entertainment.
"Virtuosity is never a showing off thing with us, but only at the service of the music," he says.
The California Guitar Trio and Montreal Guitar Trio performed in Myron's Cabaret Jazz in November of 2019.