5/16/2017
Supporting the Arts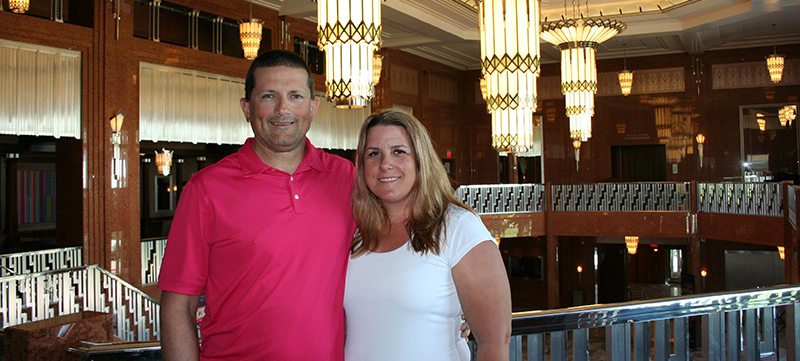 Both in their 40s and committed to enjoying full lives without children — yet still aspiring to leave a positive mark on the world — married couple Judy Peatrowsky and Erik Novikoff knew they needed to plan ahead for their hard-earned money.
With their path to retirement already laid out, they knew that dollars and assets would still remain after they were gone.
"As an engineer, I'm always planning ahead for every contingency," Novikoff says. "I take that same look at my life and say, 'OK, I know I don't have any kids to leave things to, but I'm going to amass wealth because I'm a driven person. Since I have no one to leave that to, what's going to happen to all of that that I develop?'"
A friend inspired the Las Vegas couple to explore an option they hadn't considered before: Arranging to leave some of their estate to The Smith Center after they're both gone.
It was an option they embraced quickly.
"We're looking to provide our wealth and our legacy to something that's going to outlast generations," Novikoff says.
Preparing a Legacy
It might seem early for a career-driven couple to contemplate such foresighted financial matters — but in fact, this couple's generation is the fastest growing population in Planned Giving.
Planned Giving — charitable giving that involves more coordination than a cash donation — can take many forms, including donating assets such as art or real estate, or leaving a donation in a will or trust.
With an increasing number of couples like Peatrowsky and Novikoff who choose not to build a family, planned giving provides an option to still leave a piece of themselves behind.
"Our estate won't go to family, but it will go to something that we love," Novikoff says.
Keeping the Arts Alive
Planning to pass on some of their assets to The Smith Center was an easy choice for the couple.
Both avid lovers of the arts, they take in a wide range of performances throughout the year at The Smith Center, including Broadway productions, concerts at Cabaret Jazz and even one-man shows at Troesh Studio Theater.
They want community members to enjoy this resource as much as they do for years to come, Peatrowsky says.
"When I used to live in New York City, I would go to the New York Philharmonic and the New York City Ballet, and doing so meant going to different venues," she recalls. "The Smith Center has everything under one roof. I can come to the ballet, I can come to the philharmonic, I can see jazz."
The Right Fit
Opting to donate at the ends of their lives makes the most sense for their current status in life, Novikoff says.
"As a couple that was not born into wealth, but is the first generation trying to create their wealth, it's hard for us to start giving money right off the bat," he explains.
He had even once pondered becoming a professional performer himself before landing on a career with more job security, he adds.
By leaving their estate to The Smith Center as well as other charities, they hope to nurture performing arts careers for others, he says.
"It gives us the ability to make sure we know in the future, there's still going to be the performing arts," he says. "We just want to make sure it has a chance to still thrive."
Learn More
For more information about Planned Giving to The Smith Center, click here.