5/15/2018
Supporting the Arts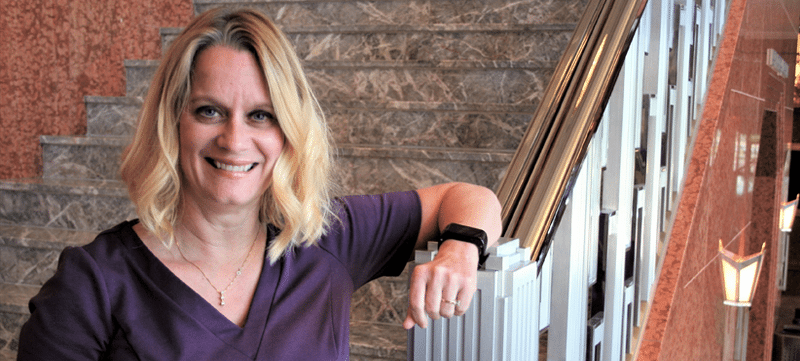 Carol Hollatz found her passion for development — the process of building relationships with charitable donors — when she saw firsthand the power a donation can have.
Working in development at Roseman University of Health Sciences in Henderson, and before that in support of cancer patients in Las Vegas, she oversaw charitable contributions that advanced people's health care careers and helped them through the hardest periods of their lives.
"It opened up my eyes to how philanthropic people in Southern Nevada are," Hollatz says. "I was really seeing how philanthropy changes people's lives."
Now Hollatz, a 20-year Las Vegas resident, is enthusiastic to assist with contributions of all sizes to The Smith Center, a nonprofit organization.
As the new director of Annual Fund, Hollatz will play an important role in providing support and guidance for supporters of The Smith Center.
"I'm really enjoying meeting people, getting to know what they love about The Smith Center, and finding the right fit for them to support us in a way they know they're making a difference," she says.
Get to know Hollatz a little more in our interview with her below.
What are the greatest lessons you've learned about assisting with charitable donations?
That you never know what's going to impact a donor and inspire them to offer support. It's my job to share, "Here's what we're doing at our organization," and find out what donors are passionate about.
That's why I love being part of The Smith Center. We have so many things going on here that people connect with, from our incredible productions to our education and outreach programs.
You yourself are a season ticket holder for The Smith Center's Broadway season, and a longtime Las Vegas resident. What do you think of The Smith Center and its impact?
I think it's magic. I'm very passionate about the performing arts. It makes me feel, and to me that's part of what makes us human.
The Smith Center is the first time we've ever had a community performing arts resource to this extent in Southern Nevada. I think it's really elevated what the performing arts is to the Las Vegas resident.
Many people aren't aware The Smith Center is a nonprofit. Can you discuss what donations help support here?
Ticket sales only cover 75 percent of The Smith Center's costs. Public support covers the rest. When donors give, they help to support everything from keeping our lights on, to presenting our incredible music, theater and dance shows.
Public support also helps us provide our education and outreach programs, including our student matinees that we present at no cost to schools every year.
What would you say to encourage people to donate to The Smith Center, even if just a small amount?
Every little bit helps. Donors from $1 on make a difference. Whether people give once a year or with a recurring gift, we can work with any budget, because it all makes a difference.
Learn More
To learn more about supporting The Smith Center, visit: TheSmithCenter.com/support-us/support-donate/.