1/17/2020
Community Impact / Broadway Las Vegas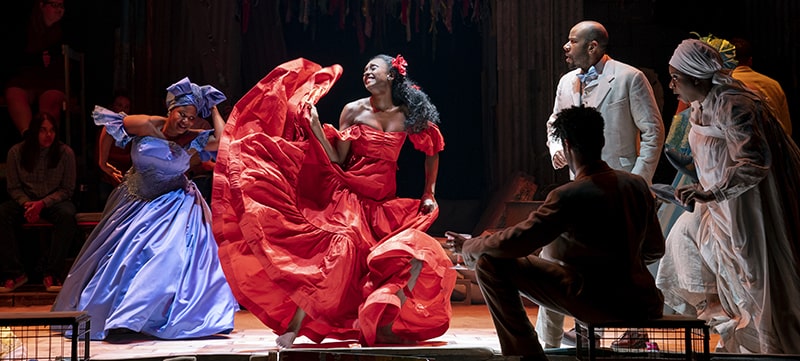 John C. Kish Foundation Supports Audience Members on Stage in 'Once on This Island'
Audiences at "Once on This Island" will likely notice a special addition to the Tony-winning production.
They will see fellow audience members seated on stage, as part of the national tour's vision for creating an immersive theater experience, as inspired by the revival's set design on Broadway.
"At each performance, there will be on-stage seating, creating a unique experience within the footprint of every theater we play," says director Michael Arden. "Audiences will be invited to put their feet in the sand and surround our company, becoming part of the show."
The Smith Center takes this one step further, thanks to generous support from the John C. Kish Foundation, one of the 57 founders that made the center's opening possible.
As a nonprofit organization, The Smith Center reached out to numerous community organizations that support young people to participate in this rare, on-stage experience.
These include theater programs at Southern Nevada high schools, as well as nonprofits such as Broadway in the H.O.O.D., West Las Vegas Arts Center, Communities in Schools and more.
The John C. Kish Foundation donated $10,000 to subsidize these community members' tickets, providing them with an impactful experience they might never have otherwise enjoyed.
"At his core, John Kish and his partner Frank Plevo were huge supporters of inclusion, equality and mutual respect, which this production exemplifies," says Matthew Frazier, Smith Center board member and John C. Kish Foundation trustee.
Embracing Diversity and Inclusion
Winner of Best Revival of a Musical at the 2019 Tony Awards, "Once on This Island" follows the storyline from acclaimed novel "My Love, My Love," a Caribbean-based retelling of Hans Christian Anderson's "The Little Mermaid."
Chronicling a love challenged by racial prejudice and socioeconomic barriers, this production upholds a powerful message of tolerance and inclusion.
This very message underscores the importance of providing the on-stage experience to help open people's minds, Frazier says.
"We are living in an ever-polarizing country, maybe world, where many of our audience members are having to deal with prejudice and discrimination on a daily basis," he says. "Productions like 'Once on This Island' will hopefully educate the audience about those topics, in a beautiful, colorful and creative message."
Tying into the show's theme of celebrating diversity, the audience members on stage represent a wide range of Southern Nevada demographics.
This will include participants of the Social CirKISH Foundation, which Frazier founded through his trustee role with the John C. Kish Foundation. Teaching circus performing arts to youths 10 to 19 years old, the program serves to empower participants spanning inner city children, LGBTQ youth and others facing social and academic issues.
"The Smith Center's role in the Las Vegas community has always been one to reflect the rich diversity of our city and perhaps more importantly, make itself accessible for all to experience and enjoy," Frazier says.
A Vibrant Production
"Once on This Island" also remains highly acclaimed for its rich creativity and bold visuals.
Audience members can look forward to exuberant musical numbers and gifted vocalists, including high-profile cast members such as "American Idol" alum Tamyra Gray and Tony nominee Phillip Boykin.
With community members on stage, the show aims to deliver its electrifying music and emotional message in a relatable approach.
"It's our goal to give all audiences a unique perspective of the communal nature of what theater can be, in hopes that 'Once on This Island's' story of love, hope and forgiveness might inspire young minds and hearts all across the United States to lead their lives with compassion and empathy," Arden says.
"Once on This Island" was part of the 2019-2020 Broadway Las Vegas season.
Show Sponsor

Photo Credit: The Company of the North American Tour of ONCE ON THIS ISLAND. Photo by Joan Marcus. 2019