9/9/2019
Performances and Artists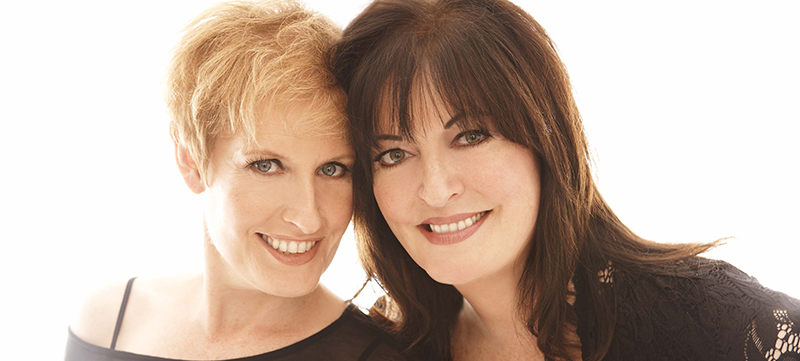 Liz and Ann Hampton Callaway to Perform Broadway Showtunes and More
Strange as it might sound for a Tony and Emmy-nominated Broadway performer, Liz Callaway admits the only way her sister Ann could hear Liz sing as a teenager was by hiding on a theater floor.
When Liz auditioned for their high school's student-produced production, with music written by Ann, Liz felt stricken with stage fright.
"I was so shy and the idea of singing in front of people was so scary," Liz confesses. "I told Ann, 'if you are at my audition, I'm not auditioning,' so she hid on the floor of the theater to hear me, without me seeing her."
Liz only committed to pursuing her glittering vocals when she found the collaborative theater community "saved" her during her parents' divorce, she says. This same supportive environment helped her build a successful Broadway career, including playing Grizabella in "Cats," and performing in leading venues such as Feinstein's/54 Below in New York City.
"Music can be very healing," Liz says. "I do what I do to meet with other people and collaborate."
So it's only fitting that Liz will perform hit collaborative show "Sibling Revelry" with her sister, celebrated singer-songwriter Ann Hampton Callaway, on October 12 at Myron's Cabaret Jazz.
Both have come a long way since high school, with Ann now a platinum recording artist and Liz a famous Broadway star.
They have taken their popular "Sibling Revelry" duet show to leading venues nationwide, with their duet album ranked as a best seller.
"If people have never seen it before or never seen either of us before, (this show) is a great introduction to us musically and as sisters," Liz said. "We have a lot of fun together and people appreciate how close we are."
Sisterly Star Power
With both boasting crystalline vocals, the Callaway sisters' stunning careers have often overlapped.
This includes taking turns in the Broadway spotlight.
Liz performed for five years in "Cats," originated the role of Ellen in "Miss Saigon" and starred in Stephen Sondheim's smash musical "Merrily We Roll Along."
Ann earned a Tony nomination for starring in Broadway musical "Swing!" – though she might not return to Broadway as eagerly as her sibling.
"When you're the star, eight shows a week is so unbelievably demanding," Ann says. "You have to live like a nun."
Both also share close ties to their mutual icon Barbra Streisand. Ann has penned several tunes for Streisand, and Liz served as the music legend's stand-in during rehearsals for two of her tours.
"A lot of people don't know that," Liz says, adding that she often tells stories about this during shows.
Both even contributed significantly to feature films, without actually appearing on screen.
Liz provided the singing voices for numerous animated movies, including for the starring role in animated musical "Anastasia."
Ann also composed original music for the 2019 feature film, "The Man Who Saved Paris," starring Stanley Tucci and Kristin Scott Thomas.
"I love how music and film help each other," Ann says.
A Showstopping Duet Show
Both sisters have wide-ranging repertoire to draw from, with equally charming wit to engage audiences.
"In cabaret shows, the collaboration is with the audience," Liz says.
Audiences can expect to hear thrilling hits from both performers' careers, as well as personal favorites, including hit showtunes from "Cats," "Wicked" and "Chicago," plus lively and heartwarming renditions of jazz and pop standards like "Happy Days/Get Happy."
While this powerhouse show might suggest Liz has conquered her nerves, she admits that's not quite so.
"The moments before I go on stage, I ask myself, 'Why aren't I a travel agent? Why do I put myself through this?'" she says. "Then once I'm out there, I love it."
Liz Callaway and Ann Hampton Callaway performed in Myron's Cabaret Jazz in October of 2019.