7/23/2018
Education and Outreach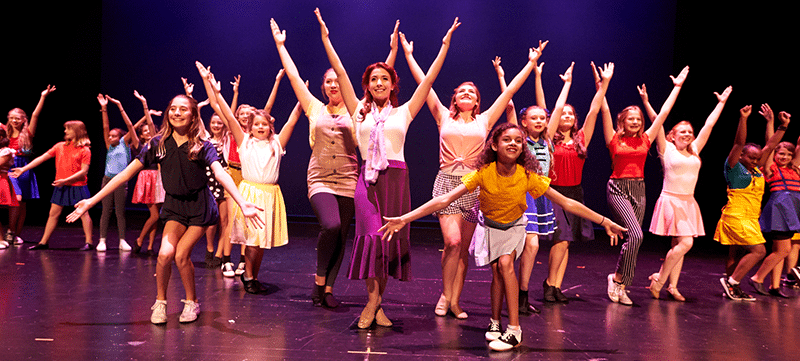 Camp Broadway Unites Kids of All Backgrounds
Just a few hours before performance time at The Smith Center's Camp Broadway, Sarah Mibulano was bubbly with anticipation.
"I'm very excited about this show. I've just felt like I couldn't wait for today," the 13-year-old said. "I like being on stage, because I feel like I'm taking myself out in front of a lot of people and showing myself and being strong."
It was no small triumph for Mibulano to participate in the Family Finale performance at The Smith Center's seventh-annual Camp Broadway, a musical theater program in which children learn theater skills like acting, dancing and singing from professionals with Broadway and television experience.
This not only marked Mibulano's first year with Camp Broadway, it was also her first time performing in an ensemble show in this country, since her family came to America in 2015 from their native Congo.
Camp Broadway helped Mibulano build confidence and make more friends in her new home of Las Vegas, she said.
"I've made a lot of friends here," she said. "I would be glad to come back again."
New Experiences in a New Country
Mibulano is part of Clark County School District's Refugee Impact Program, helping newly arrived refugee children transition to life in Nevada.
While Mibulano has overcome many obstacles assimilating in a new country, this hasn't lessened her love for dancing and performing. She couldn't wait to participate in Camp Broadway, after she learned about it through an arts program taught by a Smith Center teaching artist.
"It's amazing," Mibulano said of her Camp Broadway experience. "When we did our dance (training), I was so excited, because I really like to dance."
She thinks living in Nevada is "great," she adds, and she enjoys opportunities to perform here, like with Camp Broadway and choir programs at school.
Beyond the excitement of performing on stage in Reynolds Hall at The Smith Center, Mibulano was surprised by how much she learned at Camp Broadway.
"I learned how to focus and be quiet and watch (for direction)," she said.
Learning from Top Industry Professionals
There is good reason for kids to blossom at Camp Broadway.
The Smith Center's program — which includes two weeklong, age-appropriate camps — offers the rare opportunity for 150 children and youths to train with top entertainment professionals.
Just a few camp staff members this year included: Eric B. Anthony, who has performed in Broadway shows such as "The Lion King" and "Hairspray," Keith Thompson, who served as musical director and conductor for "Jersey Boys" in Las Vegas, and Sarah Lowe, who has choreographed dances on hit CW show "Crazy Ex-Girlfriend."
Camp Broadway participants learned and rehearsed musical productions in just a matter of days, which they performed for friends and family at the end of the week.
"They always have a little bit of nervousness coming in, but by the end of the week, they're so on the same team and they're so ready to put on the show," said Louisa Lemos, Camp Broadway's Family Finale director and a seasoned performer herself, including performing in "Mamma Mia!" in Las Vegas. "They make some of the best friends they'll ever have."
Life Skills and Lifelong Friends
Beyond learning theater skills, Camp Broadway participants learn life skills such as confidence, public speaking and teamwork.
"I've always done acting and performing, so this is what I look forward to all year," said camper Hannah Rosenfeld, who has participated in Camp Broadway for six years. "This is always a place I've felt comfortable and felt welcome, and I'm thankful for all the people I've met."
Shawn Hemphill, a first-year participant at Camp Broadway, said he appreciates how the camp trains kids to become "triple threats" in singing, acting and dancing.
"When I first walked in, I didn't know anybody, I was really nervous, but now I'm not," he said. "I feel more confident in myself, like I can do it."
More About Camp Broadway
Camp Broadway at The Smith Center includes the Shining Stars camp for ages 6 to 9, and the Mainstage Camp for ages 10 to 17. For more information about this annual program, CLICK HERE.