9/7/2018
Community Impact / Inside the Theater / Supporting the Arts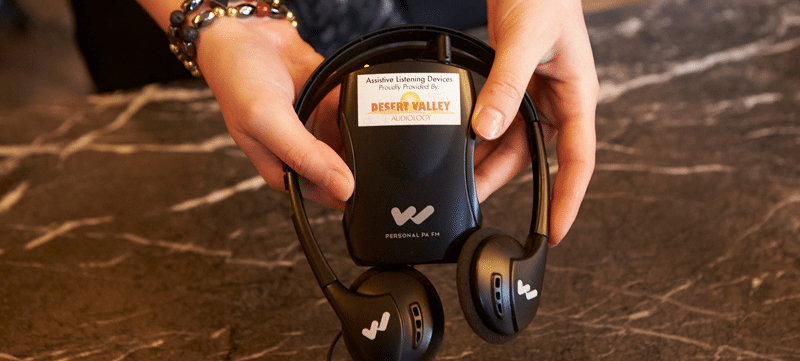 Las Vegas company donates $20,000 worth of equipment to help audiences hear performances
Rona Mendelson knows all too well how her husband David is impacted when he can't hear everything in a Broadway show at The Smith Center.
"I'll ask him, 'What did you think of the show? And he'll say, 'I didn't really hear it,'" says Rona, adding that her husband has even experienced trouble with hearing performances while wearing his hearing aids.
Although the Las Vegas residents have been Broadway season tickets holders at The Smith Center since the start, "David didn't have the same enjoyment (of some shows), because he was missing so much," Rona explains.
Now, Smith Center guests like the Mendelsons can use new, state-of-the-art assistive listening equipment to enjoy the full theater experience.
That's because Desert Valley Audiology in Las Vegas recently donated $20,000 worth of cutting-edge, assistive listening devices to The Smith Center to help audience members hear live performances fully.
The Smith Center, a nonprofit, offers this equipment for audience members to use for free at all of its Reynolds Hall performances, and upon request in its other theaters.
"This is important so people can get the full enjoyment out of a performance," says Timothy Hunsaker, founder and owner of Desert Valley Audiology. "We see this as something beneficial for the community."
State-of-the-Art Equipment
The donated equipment includes Frequency Modulated (FM) assistive listening devices that can be worn easily as headsets, bringing the sound of live performances directly to audience members' ears.
With each device including a receiver that picks up amplified sounds of a performance through radio signal, the FM devices are compatible with most hearing aids and can also benefit people who don't wear hearing aids.
"What's great is the FM frequency goes through walls, so if someone walks behind a wall, there's no loss of signal," Hunsaker says.
The idea to donate the equipment was first sparked when Hunsaker attended Broadway performances at The Smith Center and realized there might be a need for support with assistive listening.
This led to Hunsaker and the Desert Valley Audiology team analyzing the assistive listening technology The Smith Center already had, then offering to provide more updated technology.
Hunsaker, who has lived in Las Vegas since 2008 and opened Desert Valley Audiology in 2010, was excited to donate the equipment in support of the community where his career has thrived.
A fan of the performing arts himself, Hunsaker appreciates the significance of all audience members being able to fully hear and experience a performance.
"We've partnered with other community based organizations like PBS and NVPR, and The Smith Center was a natural fit for us," Hunsaker says. "We're happy to show how much we care about Las Vegas."
More Information
Assistive listening devices are available at no charge at all Smith Center performances.
These are available upon request at the Patron Services Desk in the Grand Lobby of Reynolds Hall, and upon request to a front-of-house representative at Troesh Studio Theater and Myron's Cabaret Jazz.
The Smith Center also offers additional assistive support services, including handheld closed captioning devices, audio description and wheelchair seating at all price levels.
American Sign Language interpretation is scheduled for select performances, and can also be scheduled by request, by submitting a query at least two weeks in advance to [email protected].