9/6/2018
Education and Outreach / Community Impact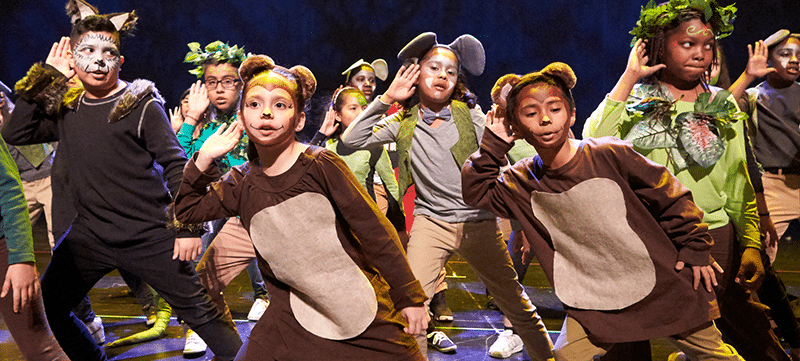 The Smith Center Chosen to Expand Disney Musicals in Schools to Remote Communities
Cynthia Taylor, a teacher at Goldfarb Elementary in Las Vegas, can't say enough about the difference she saw in students when the school joined The Smith Center's Disney Musicals in Schools program.
"We saw so many students who just blossomed," Taylor says. "That even includes one autistic student who barely spoke until he ended up (participating in the program), and he suddenly started reading and speaking."
This has been a common reaction among the over 30 Southern Nevada schools to participate in Disney Musicals in Schools through The Smith Center.
Developed by Disney Theatrical Productions, the national Disney Musicals in Schools initiative is used to help under-resourced elementary schools create their own sustainable, musical theater programs.
As a regional affiliate of the program, The Smith Center has provided this experience at no cost to Southern Nevada schools for five years, thanks to seed money from Disney Citizenship and the generous support of the Elaine P. Wynn and Family Foundation.
As a result of this success, Disney has now chosen The Smith Center as one of the first performing arts centers in the nation to expand Disney Musicals in Schools to remote, rural communities.
"The Smith Center has seen Disney Musicals in Schools transform students across Southern Nevada, so we're honored that Disney chose us to take on this expanded role," says Myron Martin, president and CEO of The Smith Center. "Education is in our DNA at The Smith Center, and helping bring musical theater programs to rural schools falls right into what we're all about."
Chosen by Disney for a Greater Role
Under its new role, The Smith Center, a nonprofit, recently received a grant to expand the Disney Musicals in Schools program to rural communities over multiple years.
For the program's pilot year, The Smith Center will re-grant a portion of these funds to Kingman Center for the Arts in Kingman, Arizona.
The Kingman Center will apply these dollars toward creating sustainable musical theater programs at one of its community's schools, with The Smith Center overseeing all of its efforts. The Kingman Center hopes to serve several more schools in the following year.
"Kingman Center for the Arts couldn't be more excited to join with The Smith Center in introducing our community's children to the joy of performing," says Kristina Michelson, executive director with Kingman Center for the Arts. "Without this support from Disney and The Smith Center, our local schools might never have an opportunity to give students a musical theater experience."
The Kingman school will participate in a 17-week theater residency led by Kingman teaching artists, all trained by The Smith Center's teaching artists. Teachers at the Kingman school will learn how to produce, direct, choreograph, music direct, and stage manage, culminating in the school performing its first 30-minute Disney KIDS musical.
As a capstone to the experience, the Kingman school will perform in The Smith Center's annual Student Share Celebration, where schools in their inaugural year with Disney Musicals in Schools perform on stage in Reynolds Hall.
"We can't wait to see the long-term impact this program has on students' confidence and education," Michelson says.
Learn More
To learn more about The Smith Center's Disney Musicals in Schools programs, CLICK HERE.