2/6/2020
Education and Outreach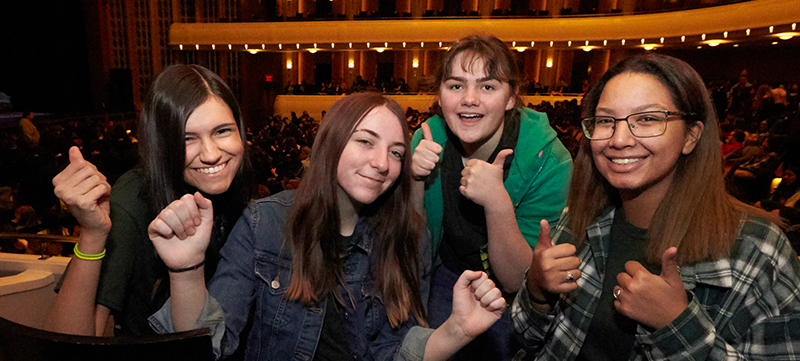 Sixteen-year-old Eslly Jeronimo-Reyes feels keenly aware of the sensitives today over people's differences.
"(Relations) right now with us, Mexicans, and our president are not the best," says Jeronimo-Reyes, a student at Western High School in Las Vegas.
But she regards these circumstances with fresh eyes, after watching a Smith Center student matinee of "Driving Miss Daisy," the Pulitzer-prize-winning play tracing the relationship of an elderly, Jewish woman and her African-American chauffeur in Atlanta, Georgia.
"The most important lesson I saw (in the play) is it doesn't matter where you're from, you should love one another," Jeronimo-Reyes says.
Thanks to philanthropic support for The Smith Center, a nonprofit organization, Jeronimo-Reyes was one of 1,490 Clark County School District students to attend a matinee of the play in late January — all at no cost to schools.
For many students, this provided their first chance to experience live theater.
While Jeronimo-Reyes remembers visiting the center once before in third grade, the matinees showed her that theater can be welcoming to all.
"I honestly thought only rich people go there," she says. "This opportunity was magical."
Opening Students' Minds
With the play tackling significant issues such as racial tolerance and empathy, many students expressed new perspectives after the matinee.
"What I learned from the play was that love has no boundaries," says Gadi Hernandez-Corado, 16. "Just because one person may be different from another, it doesn't mean that you can't love or get along with that individual."
Marisa Morris, 17, saw similarities between the characters' reluctant connection, and challenging relationships in her own school.
"The biggest lesson from the play, in my eyes, is that people are made to love one another," Morris says.
She highly enjoyed the show, she adds.
"It was amazing visiting The Smith Center, especially since I've never been before," she says. "It meant a lot to me to be able to experience this with my peers and to have this opportunity."
This also marked Melannie Rodriguez's first experience watching a live play.
The 16-year-old felt amazed by all aspects of the show, Rodriguez says, spanning the props, the actors' emoting and watching a story unfold before her eyes.
"Their tone of voice, their actions, their everything just caught my attention," she says. "It was a great experience, and if I get the opportunity to go again, I would."
Lessons for the Real World
Jessica Myers, an English teacher with Western High School, tied the student matinee into a lesson about social justice.
Her students "loved the experience," she says, and found close connections with the play's characters.
"I feel my students saw a lot of themselves in Hoke, and they loved how Daisy's attitude changed toward him over time," she says of the eventual friendship between the white and African-American characters. "They loved the bond between the two of them, and wished they could see more of that in the world."
Myers emphasizes the importance of exposing students to this production's nuanced approach to race relations.
"We need to educate our students to the world around them, and help them become more cognizant of what will affect them in and out of school," she says. "This allows our students to see how to come to peaceful understanding."

Philanthropic support from Windsong Trust enables students to attend educational performances at The Smith Center for the Performing Arts.