4/16/2019
Education and Outreach / Supporting the Arts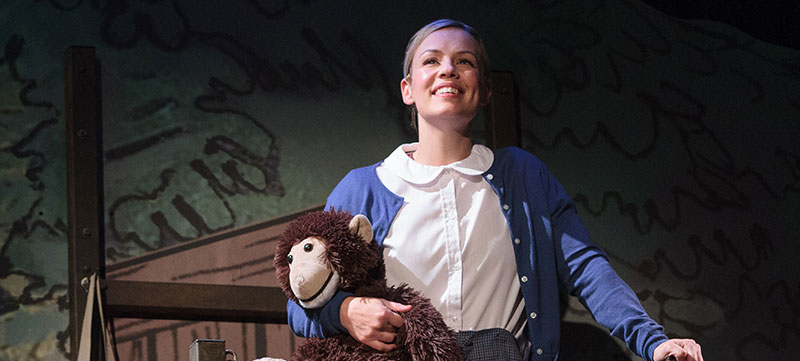 The Smith Center Presents Musical About Jane Goodall to Southern Nevada Students
Thanks to donor support for The Smith Center, the nonprofit gave over 8,000 Southern Nevada students a magical experience this month introducing them to the world of Jane Goodall.
It also provided many with their very first live theater experience.
The Smith Center presented eight student matinees of acclaimed family musical "Me… Jane" in its Reynolds Hall, with a total of 8,100 students and teachers from 67 Southern Nevada schools attending.
This was provided at no cost to schools, thanks to donations from Windsong Trust.
"The generosity of Southern Nevadans helps The Smith Center introduce the joys of theater to our community's students, as many of these children wouldn't likely have other opportunities to experience theater," said Candy Schneider, vice president of education and outreach at The Smith Center. "Like many of the student matinees we present, 'Me… Jane' was a literary-inspired production that classes could study for a full learning experience."
The lively musical, specially commissioned by the Kennedy Center, portrays Goodall's childhood adventures and how these inspired her to follow her dreams and become a world-renowned scientist.
Incorporating wonderful set pieces, video projections, and original music, the production is based on the popular book by New York Times bestselling author Patrick McDonnell.
Beyond the benefits of exposing children to the performing arts, the musical also provided rich educational fodder for teachers to weave into their own curricula and even offer life lessons, many said.
"We compared and contrasted the play and the book," said one teacher who attended a matinee, adding that students quickly identified the theme of pursuing personal dreams. "We discussed how the play added antagonists, to show there are people and obstacles that may get in the way of your dream, (and) that we need to look for the people that will encourage and support us."
Another teacher lauded how the show's discussion of Goodall's work with animals tied into lessons spanning a variety of subjects.
"We (discussed the show) in a science lesson, learning about different mammals found in Africa, as well as a social studies lesson on where Africa and England are located," the teacher said.
The production even inspired a once-in-a-lifetime experience for a class that participated in a Skype discussion with the real Jane Goodall on the day of the class' matinee.
"The students thoroughly enjoyed learning about Jane Goodall," the class' teacher said, noting that the musical's lessons will serve as a foundation for ongoing discussions about human emotions and the environment.
Making Memories for Military Families
Students weren't the only ones to find inspiration with "Me… Jane" at The Smith Center.
With each family also receiving a copy of "Me… Jane," the workshop featured a professional teaching artist who led the families through energizing games of movement and theater designed to build family relationships.
Many of the families, often separated by deployments and trainings, noted that this special event provided a valuable opportunity for bonding.
"The interaction and show (were) both amazing," one participant touted. "As a family, we (enjoyed this opportunity to) create fun memories."
LEARN MORE
Thanks to philanthropic support, The Smith Center presents student matinees and additional education and outreach initiatives to approximately 70,000 Southern Nevada students and teachers each year. To learn more about these efforts, click here.