9/13/2017
Supporting the Arts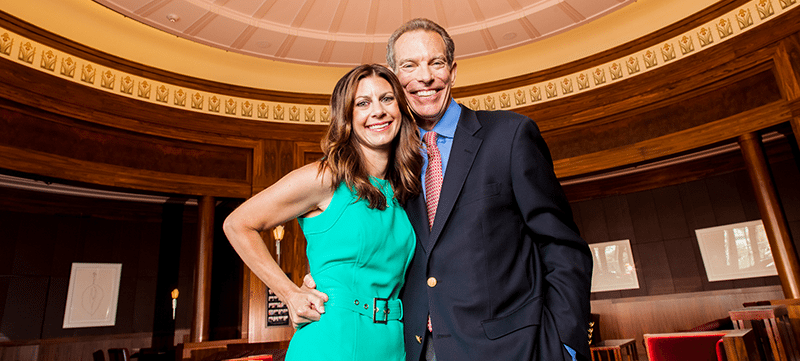 You might enjoy many ways to engage with The Smith Center, whether it's seeing unforgettable shows, watching your children learn from our arts education programs, or attending special events at our facility.
If so, it's also likely you want community members to have these experiences for generations to come.
That's why this fall kicks off our Campaign to Sustain The Smith Center, targeting to secure The Smith Center's future and ensure access to the arts in Southern Nevada for many years.
Read below why Smith Center Board Member Michael Yackira and his wife Renee became the first to contribute to this pivotal campaign.
Michael, while you were president and CEO of NVEnergy, you encouraged your company to become a Founder of The Smith Center, by joining with others who contributed to help fund the creation of our performing arts center.
Why did you believe The Smith Center was important for Southern Nevada?
Because it was important for us as a city in our desire to move to the next level of sophistication. We needed a place for entertainment that Las Vegans felt was their own, and to which we could bring our children and our children's children.
What do you both think of how far The Smith Center has come in its first five years?
The Smith Center continues to impress us. The ability to attract the kinds of shows we're seeing — "Hamilton" is just one example — the bar keeps getting raised. And this high level of entertainment goes beyond Reynolds Hall. It extends to Troesh Studio Theater and Myron's Cabaret Jazz.
Renee, what do you consider The Smith Center's greatest community impact?
The expansion of its education component, which has grown significantly. I grew up in a town with no performing arts center, and I didn't have exposure to such culture.
The educational outreach and growth of programs to allow kids who otherwise can't afford to have those experiences is important to this community and has a vital impact on it.
Why did you two choose to contribute to the Campaign to Sustain The Smith Center?
We had high hopes and expectations when The Smith Center opened five years ago, and we believe they have been exceeded. The Smith Center provides opportunities to see the arts in ways that are so different from anything we previously had in Las Vegas.
As mentioned earlier, education was important in our decision to contribute to this campaign. We hope that our contributions and those of many others will ensure the success of The Smith Center for now and future generations of patrons.
Why should others consider supporting The Smith Center?
The success of this campaign will foster the expansion of educational opportunities and allow The Smith Center to continue to meet its goal of providing Southern Nevadans with the highest quality performances in all the mediums it supports.
The Smith Center is and will be the focal point for entertainment and education in the arts. That's really what this campaign and The Smith Center are about.
More Information
To learn more about the Campaign to Sustain The Smith Center, visit www.TheSmithCenter.com.