10/15/2019
Performances and Artists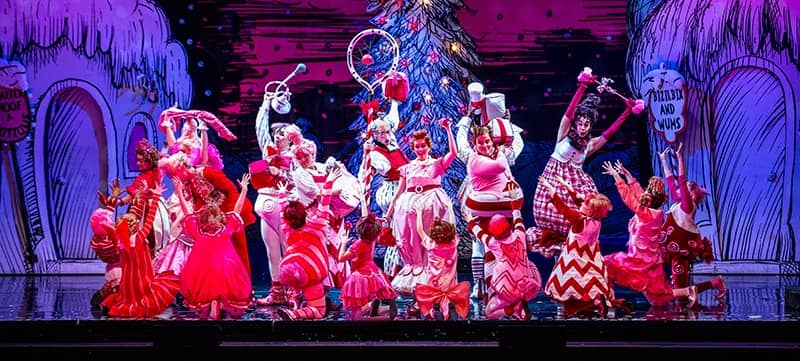 Nothing gets people in the holiday mood like festive tunes — especially when performed by Broadway casts and artists with global acclaim and Grammy nominations.
That's why The Smith Center offers a packed lineup of holiday shows in the coming months, with performances for a wide range of age groups and tastes.
Check out these shows below that are sure to brighten your season.
Broadway Musical "Dr. Seuss' How The Grinch Stole Christmas!"
November 26 to December 1
*Four matinee shows available:
11 a.m. and 2 p.m. on November 29
2 p.m. on November 30
2 p.m. on December 1
Maybe you're searching for a whimsical show to help introduce your children to theater. Or perhaps you crave to revisit characters from childhood, to spark your holiday spirit.
Regardless of your reason, this heartwarming Broadway production delivers infectious music and comedy, staying true to the beloved story and characters from Dr. Seuss' classic children's book.
The show even features vibrant costumes and sets based on the book's illustrations, with familiar melodies from the animated film, including "You're a Mean One, Mr. Grinch."
No audience member will leave with their hearts two sizes too small.
Note: This show is approximately 85 minutes, with no intermission, recommended for ages 5 and older. All patrons must have a ticket, regardless of age (infants included). Children under 16 must be accompanied by a parent or guardian.
"Sister's Christmas Catechism" (SOLD OUT)
7 p.m. on December 6
2 p.m. and 6 p.m. on December 7
3 p.m. on December 8

Sometimes audiences just need a holiday show that lets them laugh.
This hilarious one-woman show stars Emmy-winning actress Nonie Newton-Riley — also a former cast member of renowned comedy troupe Second City — as a sardonic nun teaching the story of Christmas to her unruly Catholic school class.
The true draw of the show: the audience serves as the nun's class, with audience members actively participating throughout the performance.
This includes people pulled on stage to participate in a living nativity, pop quizzes, singing carols, silly prize giveaways and even "a little crime solving," the star says.
"People might think 'oh, it's a one-woman show — snore,' but every one of these shows is different," vows Newton-Riley, who has performed the role over 20 years. "I respond to what's given (from the audience), and that's the fun."
Clint Holmes – "Holmes for the Holidays"
7 p.m. on December 13
3 p.m. and 7 p.m. on December 14
3 p.m. on December 15

With vocals as warm and smooth as hot chocolate — plus a charismatic stage presence that feels akin to holiday cheer all year round — Clint Holmes serves as an ideal yuletide ambassador. Join this two-time Grammy winner for an evening packed with favorite holiday tunes, refreshed with his classy and masterful performance style.
"Deana Martin Holiday Cheers!"
2 p.m. and 6 p.m. on December 8

Rat Pack member Dean Martin rang in many a holiday season on Las Vegas stages — and now his daughter carries on this legacy.
A celebrated entertainer in her own right, Deana delivers her showstopping vocals worldwide, on top of recording numerous albums that top the Billboard charts.
In this upbeat and festive show, Deana will honor the memory of her father and other musical greats by performing seasonal songs and standards they made famous, such as "Winter Wonderland" and "I'll Be Home For Christmas," alongside swinging hits such as "Gee Baby Ain't I Good To You" and "The Lady Is a Tramp."
Storm Large
5 p.m. and 8 p.m. on December 21

While renowned songstress Storm Large remains famous for her bold and edgy performance style, she fully embraces the festive spirit during the holidays.
"My band gets really annoyed this time of year, because I'm such a dork about Christmas," says Large, who boasts a national following after her fiery performances on hit CBS show "Rock Star: Supernova."
This means Large will showcase her powerhouse vocals by performing lively classic and contemporary holiday hits, including her own original tune about a one-night stand during a snowstorm.
Large will perform these and reimagined standards with her passionate stage presence and fierce wit, hailed worldwide during her international tours with music phenomenon Pink Martini.
Nevada Ballet Theatre – "The Nutcracker "
December 13 to 24

Las Vegas Philharmonic – "A Classic Holiday"
2 p.m. and 7:30 p.m. on December 7
These acclaimed resident companies of The Smith Center have built a steadfast following for their annual holiday productions. Nevada Ballet Theatre's production of "The Nutcracker" remains lauded as a delightful feast for the eyes, offering a magical evening for audiences of all ages.
The Las Vegas Philharmonic's holiday concert will feature a full suite of seasonal favorites, with guest performances by top Vegas vocalists such as Kristen Hertzenberg (who starred in the Las Vegas production of "The Phantom of the Opera") and Travis Cloer (who starred as Frankie Vallie in the Las Vegas production of "Jersey Boys"). Audiences can expect hits such as "White Christmas," "Sleigh Ride," "Deck the Halls" and many more.
Shows listed in this blog were a part of the 2019-2020 season.