7/31/2019
Performances and Artists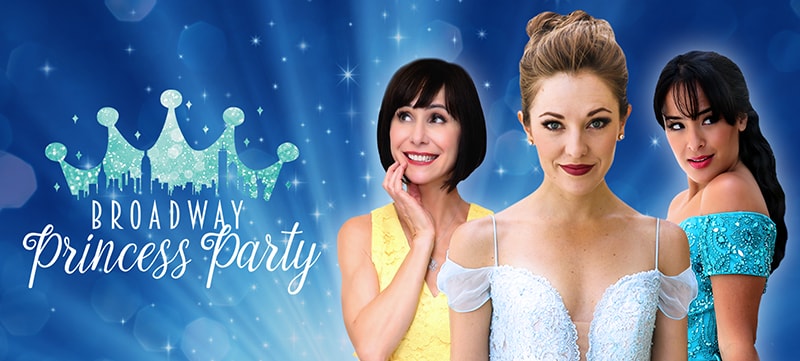 Broadway and Film Stars Perform Beloved Tunes
When Tony-nominated actress Susan Egan originated the role of Belle in Disney's "Beauty and the Beast" on Broadway, she felt that earning the part was akin to winning a lottery.
"Just being a part of anything Disney is to be a part of something timeless," Egan says. "It will outlast me. I get to be a small part of that legacy."
She feels strongly that other women — and men — deserve to experience that same special feeling.
And it just so happens that this feeling is shared by many other award-winning performers who have portrayed iconic princesses on Broadway and in feature films.
"We want camaraderie. We want to boost others up, let them experience what we got to in our respective shows," Egan explains.
This embodies the whole idea behind Broadway Princess Party.

Coming to The Smith Center, this acclaimed show features renowned Broadway and film actresses performing powerhouse arrangements of famous princess-related tunes – including the songs they've sung for the stage and screen.
The show's all-star cast includes Egan, Christy Altomare — currently starring in "Anastasia" on Broadway — Arielle Jacobs who stars as Jasmine in Broadway's "Aladdin," and Laura Osnes, who played "Cinderella" on the Great White Way.
To share the princess magic, the show encourages audience members to dress as their favorite fairy-tale characters and sing along to these beloved tunes.
"This is a celebration of everyone in the room," Egan says. "The idea here is that we all have an inner princess. Let's unleash it and have a great time."
A Princess Party is Born
This hit show started out as simple fun between friends.
Four years ago, acclaimed Broadway music director Benjamin Rauhala teasingly suggested the show's idea to Osnes, who leapt at the chance to cowrite it with him.
With other prominent actresses quickly signing on, the first "Broadway Princess Party" ran at the famous Feinstein's/54 Below in New York City in 2015.
The idea of this ending after just a few concerts didn't last long.
Videos from the concerts went viral online, garnering over 17 million views and spawning 14 more sold-out concerts at Feinstein's/54 Below.
When Egan joined the cast, she applied her expertise as a touring concert artist to expand the show and its brand, leading to the show touring from coast to coast.
"What started as a fun way for different princess actresses to come together to do a concert, has turned into a fully realized way of both celebrating the characters we play, and each other as women in the industry," Egan says.
Beloved Tunes and World-Class Performers
Audiences at "Broadway Princess Party" will enjoy uplifting melodies from a wide variety of fairy-tale musicals, Egan promises.
Not only will these be performed by film and Broadway stars with stunning vocals, but they will also feature showstopping new arrangements by Rouhala.
"We walk through every fairy tale with vibrant, crazy-incredible arrangements," Egan says. "You will hear 'Let It Go' like never before, sung in three-part, insane harmony and with the force of making that tagline a life choice."
Egan isn't surprised by the show's popularity.
Beyond the talent and passion of the performers, the show also taps into a widespread love for princess power.
"This music is engrained in our psyches and culture, and is so beautifully constructed and empowering," she says.
Everyone can enjoy this show, she adds, spanning children, college students and adults of all ages and interests.
"Everyone has an inner princess. The 6-year-girl, yes, but also the 45-year-old, tattooed trucker," Egan says. "We love that the dads in the audience find themselves as engaged as their kids, or the group of college guys sings along with the moms in the row in front of them. Imagine a Comic Con population, with incredible music, in an intimate setting — and then add the word 'party.'"
While this performance is not intended for children younger than 8, minors who are accompanied by an adult (21 or older) are welcome and encouraged to enjoy the princess-packed performance.
"Broadway Princess Party" ran in Myron's Cabaret Jazz in November 2019.