9/13/2019
Broadway Las Vegas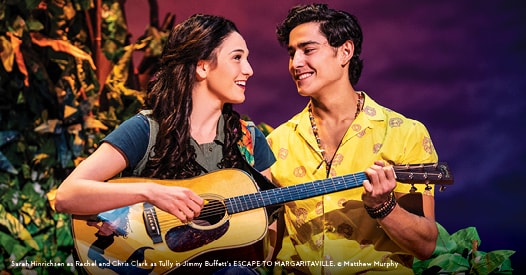 Broadway Musical 'Escape to Margaritaville' Features Entirely Jimmy Buffett Tunes
Ever flirt with the idea that you might be a Parrothead?
If so, hold this title with pride.
With similar passion to Deadheads, these devoted Jimmy Buffett fans faithfully attend his concerts with his melodies memorized… And with parrot hats and Hawaiian shirts happily on display.
There's no better time to be a fan of Buffett, the king of catchy, laid-back earworms, now that he has earned the theater spotlight.
Broadway musical "Escape to Margaritaville" — coming to The Smith Center January 7 to 12, 2020 — features more than two dozen Buffett tunes. These include beloved hits such as "Come Monday," "Margaritaville" and "It's Five O'Clock Somewhere," plus all-new originals Buffett penned for the show.
This lighthearted musical also offers a feel-good story, set fittingly in a tropical paradise, with exuberant choreography that will delight even those new to Buffett songs.
Unsure if you fall into the ranks of the diehard Parrotheads? Take the test below to find out.
When do you have the greatest craving for a margarita?

On vacation
During visits to the Vegas Strip
To get out of bed in the morning — and then another to toast this success

How many Hawaiian shirts do you own?

One for Silly Shirt Day at work
A few for beach vacations
Hawaiian shirts dramatically outnumber your formal wear and workout attire

How well do you know Jimmy Buffett songs?

You blast them when they come on the radio
You know every song by heart
There were only Buffett songs at your wedding

Do you know which cameo role below Buffett had in a feature film?

A shoe-stealing pirate in "Hook"
A man grabbing margaritas during a dinosaur attack in "Jurassic World"
You know both of these are Buffett cameos, and you own both films just for these scenes

Which Jimmy Buffett song is considered a modern classic?

"Cheeseburger in Paradise"
"Margaritaville"
Every Jimmy Buffett song is a modern classic
Results:If you selected mostly A for each question, you have a healthy admiration for Buffett. If you answered mostly B, consider yourself a serious fan. If you answered mostly C, congratulations — you are a Parrothead, and how did you sneak that margarita in here?