10/21/2019
Broadway Las Vegas / Performances and Artists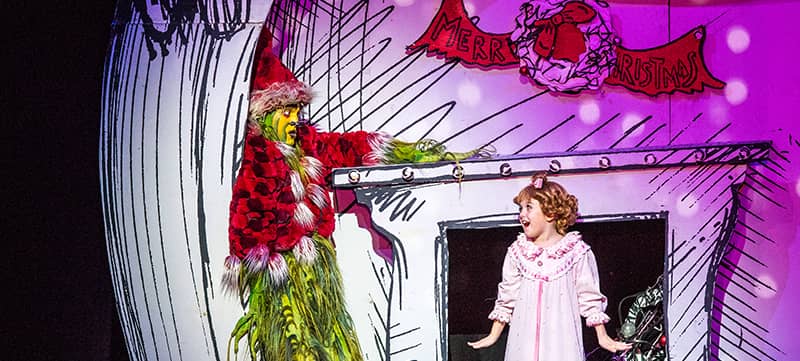 Broadway Musical Brings Holiday Classic 'How the Grinch Stole Christmas' to Life
The Grinch sneaks into most people's childhoods one way or another.
Many kids read about his uplifting transformation in Dr. Seuss' classic children's book. Some families celebrate the holidays by watching the hit 1966 animated film together.
Now with the Broadway musical "Dr. Seuss' How The Grinch Stole Christmas!" coming November 26 to December 1 at The Smith Center, Southern Nevadans can experience this festive tale live of the Grinch and his heartwarming connection with the Whos in Who-ville.
Remaining true to its source material, this production features whimsical songs, including tunes from the animated movie, as well as vibrant costuming and sets based on the book's illustrations.
But there's more to the Grinch's story than most people know.
The creation of the Grinch, and its journey from Dr. Seuss' mind to the page and then to an animated hit, involves many surprises.
Read just a few below.
1. The Grinch Was Created to Combat Holiday Consumerism
Many know the book's famous line from the Grinch's revelation, that Christmas "does not come from a store." This is no accident by author Theodore Seuss Geisel, a.k.a. Dr. Seuss.
Many of Geisel's books feature broader messages, such as environmentalism and taking personal responsibility for actions. The Grinch emerged from Geisel's frustrations of the over-commercialization of the holiday season and witnessing people overspending and fixating on materialism.
Hence he penned the Grinch's discovery that it was not gifts, but togetherness that the Whos celebrated each year.
2. The Animated Film Exists Because of World War II
Too old for the draft during World War II, then 38-year-old Geisel joined the famous filmmaker Frank Capra's Signal Corps that made movies supporting the war effort.
There, Geisel was not only introduced to the art of animation, but he also befriended animator Chuck Jones (creator of Bugs Bunny and Wile E. Coyote).
Jones would eventually persuade Geisel to adapt the Grinch's tale into an animated movie, with Jones personally helming the project.
3. Frankenstein's Monster Voiced the Grinch
Geisel placed high priority on the voicing for the animated film, especially for the Grinch.
He agreed to the sinister purr of Boris Karloff, famous for his roles in monster films such as Frankenstein's monster in the 1931 film. Karloff voiced the Grinch and the cartoon's narration.
The animated film also features other famous vocals. Its popular tune "You're a Mean One, Mr. Grinch," was sung by Thurl Ravenscroft, whose deep and booming bass also served as the voice of Frosted Flakes' Tony the Tiger for over 50 years.
"Dr. Seuss' How The Grinch Stole Christmas!" was a part of the 2019-2020 Broadway Las Vegas season.