3/20/2019
Performances and Artists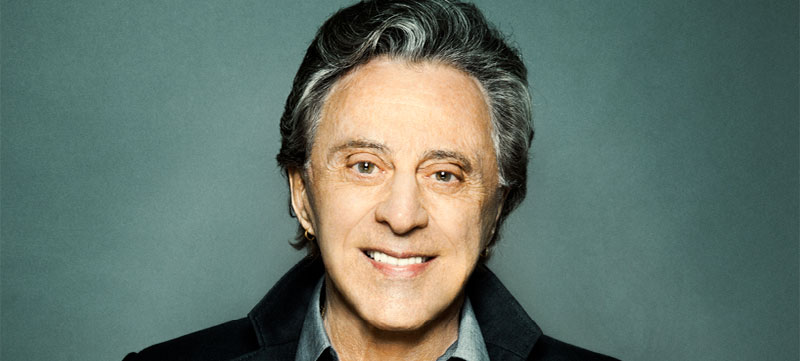 Frankie Valli & The Four Seasons to Perform Greatest Hits
It's a known fact: Fans of "Jersey Boys," the Tony-winning Broadway musical based on the numerous hits of Frankie Valli & The Four Seasons, abound in Las Vegas. After all, the musical ran at two Strip hotels for a total of eight years, with one of the show's stars, Erich Bergen, even going on to star in the film directed by Clint Eastwood.

With the show and movie creating a fandom spread across multiple generations in Southern Nevada, the upcoming concert with Frankie Valli & The Four Seasons at The Smith Center — part of Valli's international farewell tour — seems a mythical arrival.
Backed by talented young vocalists on the tour, showcasing many of the band's hits like "Working My Way Back to You," "Dawn," "Silence is Golden" and more, the 84-year-old Valli says he had been thrilled from the start at the concept of bringing the story to Broadway of how he and his bandmates rose from hard-knock lives in New Jersey to garnering an international following.
"I've always felt there was a real story behind this, about four guys who grew up with conditions in life that were not the very best and didn't know whether they were going to make it or not in anything," says Valli, adding that he spent most of his childhood living in the projects.
The group members' challenging backgrounds — including some regularly serving stints in jail — is why determination remained the leading factor in everything the band pursued, he adds.
Today, Valli attributes the band members' success more to their gritty perseverance than even the gifted songwriting talents of member Bob Gaudio.

"I look at my life, and I think how lucky I really was that I didn't end up in a trunk of a car or in jail," Valli says. "it was just a hard time where all you had were dreams."

Recreating the true story of the band proved to have some challenges, he admits – including how the original band members couldn't quite agree on what the true version was.

But their variations in the story ended up providing the foundation of the Broadway show's structure.
"Each of us were interviewed by the writers, and with each story varying a little bit, the writers came up with this idea of doing it from four different points of view," Valli explains of the show, which features each character giving soliloquies on their versions of real-life events.
Valli found other challenges with bringing his life to Broadway, he adds, including deciding what to share.
Just a few examples include difficult memories of the band members' many confrontations with the law, and member Tommy DeVito racking up a substantial debt with the mob.

"One of the things I learned really quickly was that it was really important if they're going to do a story on your life in movie or book form, that at least 98 percent of it had to be the real truth," he says. "And I think that had an awful lot to do with the fact that 'Jersey Boys' was the success that it was."

This decision to come clean about the band members' dark pasts was the stark opposite of their attitude at the height of their success, Valli notes.

At the time, the band worked hard to conceal its members' checkered histories.
"We were so afraid the press would find out and the record companies would drop us and no one would hire us," he remembers. "We weren't very vocal and didn't do interviews that talked about our pasts at all."
It was something of a relief to finally air all of their secrets when the band members were approached about making "Jersey Boys," Valli adds.

"Bob Gaudio came to me and said, 'are you sure you want to do this? Because we need to tell the truth,'" Valli recalls. "I said, 'at this point in time in our career, it seems to me that nowadays in order for someone to obtain success, they need to get arrested.'"
Evidence by his current tour, Valli says singing has remained his driving passion throughout the highs and lows of his life.

He plans to continue as long as he is able.
"My whole life, (singing) has been what I do," he says. "It's my hobby, it's my mistress, it's everything. I have a ball doing what I do, and I'm really grateful for the opportunity to do it."
Frankie Valli & The Four Seasons performed as part of the 2018-2019 season.