9/21/2020
Discovering The Smith Center / Retrospective Series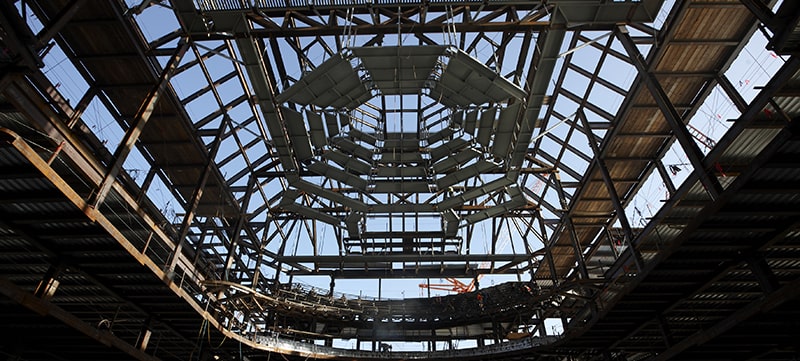 You have probably made special memories at The Smith Center over its first eight years.
Maybe you've enjoyed top Broadway shows or seen iconic performers on stage, or perhaps your children attended student matinees. You might have met for a community gathering on the center's campus, or even celebrated life-changing events there like a wedding.
None of this would have happened, without a group of community leaders who met over 20 years ago.
This small band of visionaries convened at the Golden Nugget in downtown Las Vegas, to discuss how their city remained the only one in North America without a world-class performing arts center.
"I had lived in other communities with vibrant arts scenes, and really felt the lack of that kind of facility here," recalls Dr. Keith Boman, one of the 60 stakeholders at the table.
Don Snyder, a prominent Las Vegas businessman who also attended, agreed with the need.
"I saw a performing arts center as something that could help businesses and schools and industry make it much easier to recruit people," Snyder remembers.
Some critics said it couldn't be done. Others worried that interest wouldn't last.
But your Southern Nevada community came together as never before to make it happen.
In an inspiring, 17-year effort, these community leaders collaborated with multiple tiers of government, charitable organizations and individual supporters to fundraise, design and construct The Smith Center for the Performing Arts.
A nonprofit organization, The Smith Center now serves as Southern Nevada's Heart of the Arts, a cultural hub where community members from all walks of life will gather for generations to come.
"This took so much collaboration and cooperation, it could only have happened in Las Vegas," says Boman, now vice chair on The Smith Center board.
The Team That Made it Happen
If you think this was hard to pull off, you're right.
In the mid '90s, civic leaders including Snyder, Boman, Nancy Houssels and Steve and Elaine Wynn organized the Las Vegas Performing Arts Center Federation.
Then, they began reaching out for financial support they knew wouldn't come overnight.
To help, they brought on consultant Myron Martin.
His pivotal efforts would lead to him eventually taking the reins as Smith Center president and CEO.
"The Smith Center happened against all odds," Martin says. "We raised $470 million dollars during the greatest economic downturn in our state's history."
Unexpected Partnerships
The City of Las Vegas gave the center a place to call home.
To the project team's surprise, the city council passed a memorandum in 2003 to provide not only 5.5 acres of land in downtown Las Vegas, but also infrastructure, parking and environmental clean-up for the project.
Then-Mayor Oscar Goodman had been hoping to pursue a project like this for some time.
"It was always our goal to have the finest performing arts center imaginable," Goodman says.
On top of this, the project team successfully lobbied the state legislature and Clark County to approve a car rental tax in 2005 to help fund the center.
"We didn't think our chances were very good," Martin says. "But everyone at every level said yes to the 2 percent tax, which helped fund half of this project."
A Surprising Donation
Private support made the center's opening possible – especially donations from the Donald W. Reynolds Foundation.
The foundation's support also came as a surprise, after an early meeting that looked like a lost cause.
"The foundation Chair Fred Smith said, 'That's a really great project, but that's not what we do,'" Martin recalls. "We thought that was the end of that."
Three months later, however, Smith approved a $50 million donation. This secured Fred Smith and his wife Mary as the center's namesakes.
Fundraising advanced with the support of 57 community members, The Smith Center's Founders, each donating $1 million or more.
The Threat of the Recession
The future looked bright… Until the 2007 recession hit.
Contributions slowed, potentially forestalling construction for years.
That is, until The Reynolds Foundation saved the day — again.
The foundation stepped up once more to donate another $100 million, ensuring the construction's timely completion.
The foundation's combined gifts of $150 million totaled the highest performing arts donation in U.S. history.
"The Smith Center is The Reynold's Foundation's legacy," Martin says.
The Next Step: A World Tour of Theaters
Each week, The Smith Center will release articles highlighting the incredible stories of its journey to becoming a world-class performing arts center.
Look for next week's article, detailing the project team's tour of theaters across the globe to draw inspiration for The Smith Center's design.