9/6/2017
Performances and Artists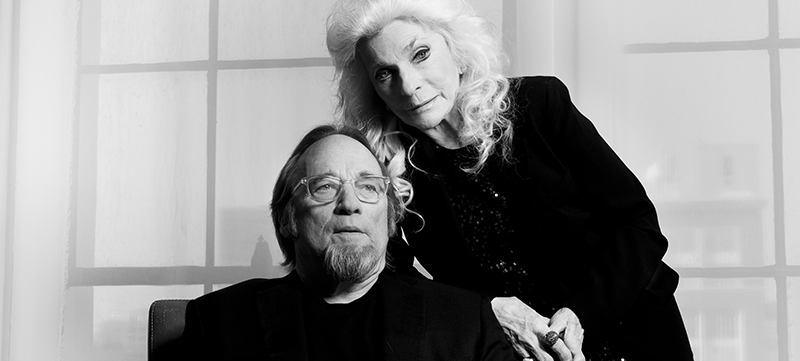 For folk music legend Judy Collins, the nationally beloved song "Suite: Judy Blue Eyes" by Crosby, Stills & Nash represents more than just an iconic melody.
It's singer Stephen Stills' personal ode to her, a vestige of their brief and fiery romance decades ago.
"It's very nice to have a classic, iconic song written about you," Collins says with a laugh. "I think we've helped each other a lot in our careers."
The two couldn't have known when they first met decades ago that their lives and music would remain permanently intertwined.
Beyond an initial passionate romance, Collins and Stills have remained close friends for 50 years, influencing each other's crafts and bolstering one another's success as both became acclaimed singer/songwriters in their own right.
Now performing side-by-side at last on their first-ever tour together, Collins considers this an endearing twist of fate.
"It's a wonderful reunion. I think it's sort of romantic in a lot of ways, and I don't mean that it's a romance," Collins says. "It's just one of those romantic versions of things coming back around."
A Passionate Introduction
Collins and Stills first met in Southern California during a recording session for Collins' eighth album, she says.
With Stills backing her up in the session band, sparks between them quickly flared.
"He came on to play on this session of mine for a week or so, and we had an affair," she recalls.
While the romance soon after transitioned to friendship, Stills was inspired by their fling to pen "Suite: Judy Blue Eyes," which catapulted his band's success.
"That was one of the first songs that became a hit for Crosby, Stills & Nash," Collins says. "We've been friends ever since."
An Ongoing Partnership
Both proceeded to enjoy epic careers, with Collins famous for hits like "Both Sides, Now" and Stills recording favorites with his group such as "Love The One You're With."
Through the years, they continued to lean on each other for support and artistic inspiration. That includes releasing a new album together this year.
Collins believes this lasting friendship reflects their commitment to their art form, she says.
"I think we admire each other's work tremendously," she says. "I've always had an incredibly strong feeling about Stephen's gifts. He starts to play the guitar and it melts your heart."
Despite their romantic history, working together has remained seamless, she adds.
"Stephen once said to me, 'We should've just skipped the romance and gone straight to the music,'" she recalls. "And I said, 'Then you wouldn't have written "Judy Blue Eyes" and had a great career.'"
A New Stage Together
The pair's current tour came together naturally, Collins says.
"The timing worked out perfectly," she says. "The time opened up in my own schedule and with Stephens', somewhat regrettably because Crosby, Stills & Nash has come to a halt for the moment."
They view the tour as an opportunity to not only perform their classic hits, she adds, but also share intimate stories from their personal journeys, including how they helped build the Laurel Canyon musical mecca that launched the careers of artists such as Joni Mitchell.
"We've both had big careers," she says. "We both have a lot to talk about."
Stephen Stills & Judy Collins performed as a part of the 2017-2018 season.