8/15/2017
Performances and Artists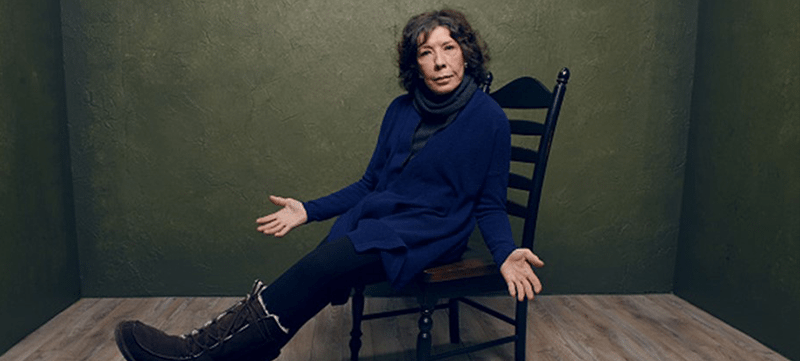 Lily Tomlin can give an anecdote summing up the comedy industry for women when she started out.
Her female costar in a cabaret show performed "hilariously funny" slapstick routines, she says — but only in their dressing room.
"I said, 'You have got to do that on stage!' And she looked in the mirror and said, 'Oh no, I wouldn't want anyone to think I was unattractive,'" Tomlin recalls. "That was the credo back then. To be a woman and do comedy, you had to be homely or overweight, or ditzy or a screwball. Something had to be wrong with you."
This is a battle Tomlin has been fighting on stage and screen throughout her five decades in the entertainment industry. She continues to promote women's right to be funny – herself included.
"I was never inhibited (by stereotypes)," she says. "I was just on fire to perform and share these ideas."
Defying Convention on Netflix
Blowing up stereotypes of women remains the driving theme in "Grace and Frankie," the Netflix show starring Tomlin and Jane Fonda that has been a runaway success, earning Tomlin a new Emmy nomination.
"It really explores the problems of aging for women and the societal obstacles they have to overcome, like not being able to get into business, just being discounted and marginalized," she says.
Show creator Marta Kauffman devised the show with both actresses in mind, Tomlin says. The concept held strong appeal, she adds, because of its focus on reframing society's view of older women.
"My agent called me and said, 'Are you and Jane looking for a series? And I said 'Gosh, we are now,'" she remembers. "We met with Marta and she pitched it to us, and it was something Jane and I had been hoping for."
The show so far has seen Tomlin and Fonda's characters exploring a variety of empowering adventures, including launching their own business.
The fact that the show is thriving, with the fourth season just finished shooting, reflects how the comedy industry has changed for women, Tomlin says.
"I hope (the show) gets even edgier. I hope people like it and respond to it," Tomlin says. "I get stopped all the time with people saying, 'What's going to happen to Grace and Frankie?'"
Hard Won for Women
Getting to this point wasn't easy.
When Tomlin started out doing stand-up, she remembers performing her now-classic characters to audiences that gave her "absolute silence," she says.
"You just didn't see a woman standing up and telling jokes," she recalls.
Audiences also didn't fully grasp her comedy style of playing characters, or the edgy topics she chose.
"I think I was always a little ahead of my time in my own taste," she says.
What kept her going, she adds, was simple passion for the characters she knew intrinsically to be funny.
Eventually, "people came around," she says. Opportunities for women in comedy have gotten better "by a long shot," she adds.
"I can only fumble around like any human and say that times changed, things got more liberal," she says. "Women's rights were expanded upon."
Still Working
Tomlin attributes her longevity in entertainment to "just sticking around," and committing to quality roles.
"I've never had a network television show like some people that lasted eight or 10 years and made a load of money," she explains. "I've never had that problem that I had so much money I didn't have to do anything."
For any new project she takes on, it must be "wholesome and true in spirit," she notes.
"At the same time, I want to go lie in a hammock," she says.
"An Afternoon of Classic Lily Tomlin" was a part of the 2017-2018 season.