2/28/2020
Performances and Artists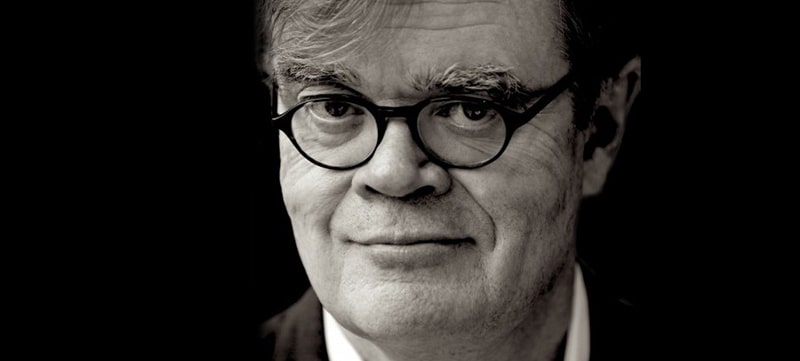 Beloved Humorist Garrison Keillor to Deliver Comedy, Poetry and Songs for Vegas Audiences
Most Americans immediately recognize Garrison Keillor's voice.
That's because millions listened each week to Keillor's heartwarming stories and songs on "A Prairie Home Companion," the acclaimed radio show he created and hosted for over 40 years.
Many still feel close to the characters from his iconic, short stories of fictional town Lake Wobegon.
Continuing to tour nationwide, Keillor will reflect on many insider stories from his career in his upcoming memoir, "So Far So Good."
In the meantime, Keillor will deliver fresh comedy, poetry and stories — and even lead the audience in a few songs — when he visits The Smith Center on February 5, 2021.
Enjoy a taste of Keillor's warmth and humor in the center's interview with him below.
Question: How did the concept for "A Prairie Home Companion" first come together?
Keillor: I grew up evangelical, so movies and TV were forbidden, but we owned a large, Zenith floor-model radio. We listened to Jack Benny, Fibber McGee and Molly, detective shows, variety shows, and loved the warmth and immediacy of it.
I got into radio accidentally as a way to put myself through college, but when I was 31 I went to Nashville to write a story about the Grand Ole Opry for The New Yorker.
Seeing that fine old music show made me want to start one of my own that would incorporate the sorts of things I liked on radio when I was a kid.
Question: What was the key to sustaining this show for over 40 years? What were the greatest highlights or lessons for you?
Keillor: I was born with the farmer gene, which is persistence. It's more important than talent, and I had it. Talent, not so much.
The highlight for me now is that when I get into a taxi driven by a Somali or Ethiopian, they recognize my voice right away from the radio. They listened to "Prairie Home" to improve their English.
The lesson is: you never know what you may be accomplishing.
Question: What was the initial inspiration behind your Lake Wobegon stories?
Keillor: I wanted to talk about my friends and family, but do it undercover, so I invented a town to put them in.
Question: Can you describe your writing approach for these stories?
Keillor: I started with a peaceful day and then something happened, a blizzard struck, unexpected guests were coming, a bat flew through the room, smoke pours from the oven and firemen are at the door. The natural order of things is shaken, and you discover things about other people.
Question: What are you writing about these days?
Keillor: I've switched to writing essays about myself and my wife and daughter and our ordinary lives. It's Lake Wobegon, but sometimes there's New York or Minneapolis in it.
Question: Can you describe the impact the Lake Wobegon stories have had on your career, and their personal meaning to you?
Keillor: My second book, Lake Wobegon Days, was a huge bestseller in 1985 and that changed my life. I was a dour satirist before that and then I became a humorist.
Question: Are there any new projects you're working on now?
Keillor: I'm finishing up a memoir, called "So Far So Good." There are plenty of trauma memoirs out there, and I decided to write a happy one.
SEE THE SHOW
Garrison Keillor visits The Smith Center with his show "Stories from Lake Wobegon" on February 5, 2021. For tickets, click here.