11/16/2020
Discovering The Smith Center / Retrospective Series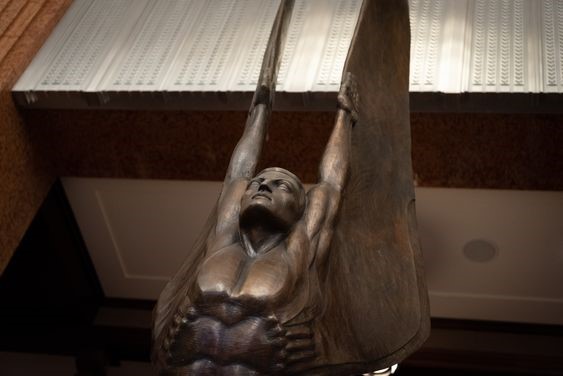 Smith Center visitors often catch their breath at the towering sculpture atop the Grand Lobby staircase.
A muscular figure with massive wings eternally outstretched, the bronze, 16-foot Genius in Flight sculpture has served as a solemn gatekeeper to thousands of captivating performances.
But little do many know that a historic landmark gave this artwork its wings — and an artist of rare talent faced numerous challenges to bring it into being.
"I am very proud of Genius in Flight," says the work's creator, acclaimed sculptor Benjamin Victor. "He is monumental in scale and vitality."
Recreating a Landmark
With the Hoover Dam serving as the architectural inspiration for The Smith Center's design, the center's core team envisioned an impressive sculpture crowning the Grand Lobby staircase.
What better way to encapsulate the dam's majestic art deco style, they agreed, than a replica of the stunning Winged Figures of the Republic statues that guard the dam?
Such a significant project required a highly skilled artisan — making Victor a perfect fit.
Renowned for his monumental bronze and clay sculptures immortalizing historic and heroic figures, Victor accomplished the rare of feat of earning his first large commission at just 23.
And by 26, he became the youngest artist in history with a sculpture in the National Statuary Hall in Washington, D.C. Today, he remains the only artist with three works in this legendary hall.
"All of (my sculptures), no matter where they're placed, I try to put a special emphasis on each one and really take my time, knowing how important they are to the people that are going to view it," Victor says.
An Important Edit
Victor embraced the chance to craft such a high-impact artwork for The Smith Center.
But he requested one important change to the team's proposal.
He noted that the original Winged Figures of the Republic statues — created by Norwegian-born, American-naturalized sculptor Oskar J.W. Hansen —  were sculpted in a seated posture, representing the solidity of the Hoover Dam and the genius of engineering and labor behind it.
Victor suggested that The Smith Center's statue stand upward in flight, reflecting the joy and freedom of creativity.
"Dance, ballet, music, all these sorts of things are very dynamic," he explains. "So I thought about it and  presented this idea of doing that figure, but having it rising up off the base, flying up, using diagonal lines to create motion rather than having a static, vertical piece. So my idea for the title was Genius in Flight, because it represented the dynamics of The Smith Center."
A High Standard to Meet
Victor faced no small challenge in recreating the form from the iconic Winged Figures of the Republic.
The original 30-foot statues each contain more than 4 tons of bronze, and their elaborate installation in the 1930s required moving them atop colossal pieces of ice.
Their nuance and grandeur marked a high standard to meet. But Victor proved up to the task.
"It was very complicated," he concedes.
He predominantly shapes his sculptures with clay by hand, which are then cast in bronze – a process he used for Genius in Flight.
He began with carefully studying the original statues and planning his design. He then crafted a 4-foot model to help perfect the concept, and worked his way up to sculpting full scale.
The entire process took roughly a year, he estimates.
"You've got everything from step one, conceptualizing and designing the sculpture, all the way to the final installation, and there are a lot of phases in between to create that large of a statue," he says.
Victor prefers casting in bronze both because of its warm appearance and durability — promising the Genius in Flight statue has a long future ahead.
"Bronze lasts forever," Victor says.
A Feat of Engineering
One of the greatest challenges proved to be engineering the roughly 2,000-pound statue to stand securely on an 11-by-11-inch base.
"It took some serious structural engineering," Victor says.
Working with an engineer in South Dakota, he built the sculpture's substructure to include stainless steel tubing bolted together, "similar to what would be inside of a traffic light," he says.
A large, stainless steel beam allows for the statue's 10-degree, forward lean without it falling, he adds.
The sculpture actually floats above the base by a quarter of an inch atop a silicon bead, Victor notes, so it can move slightly without cracking the underlying marble.
"It's quite a feat of engineering," he says. "I don't want to say it was equal to the Hoover Dam, but we had a little inspiration there."
A Mad Dash Through the Night
Crafting the sculpture and its substructure took Victor right up to his deadline for installation – to the point that when it came time to cast the statue, he didn't have a second to spare.
"The opening of The Smith Center was right around the corner," he says.
He cast the sculpture with an expert team at the Artworks Foundry in Berkeley, California, one of the nation's leading fabricators of metal castings. To complete it on time, they worked "full time plus over time," he says.
Victor and his father then drove overnight from California to Las Vegas, to deliver both the Genius in Flight statue and an Oscar Goodman bust Victor also crafted for The Smith Center.
"It was just me and dad caravanning," he says. "We each had a pickup truck and trailer filled with granite and sculptures."
They had time to stop for just one hour's sleep, he adds.
"I called my dad on the road and said 'thank you so much, you're so tough to do this on one hour of sleep, I really appreciate it,' and I'll never forget what he said to me," Victor remembers. "He said, 'at my age, I can hardly ever sleep anyway, so it's really not that big of a deal.'"
A Most Delicate Installation
Installing the immense statue proved an incredible undertaking.
"It's not like when you're installing a monument outdoors, where you can just pull a crane up and lift it," Victor notes.
With the help of his brother, a Las Vegas union electrician, Victor hired a top construction team to utilize an elaborate system of scaffolding and rigging to gently raise the statue and maneuver it into place.
With Victor and his father still exhausted after their overnight road trip, the installation began at 7 a.m. and finished around 3 p.m.
"Every step took a long time. it was basically being very careful with something very large that could potentially be very dangerous if there was even one mistake, and it could also be very damaging," Victor says, noting the lobby's spotless marble that the team dared not scathe. "When you're inside a building of the importance and the immaculate detail of The Smith Center, it makes it particularly challenging. The environment is like a work of art itself."
Contributing to Las Vegas Culture
After living in Las Vegas as a young adult, Victor takes deep pride in contributing a lasting sculpture for a building so significant to the city.
He also feels a thrill knowing so many people enjoy it as part of their experience at The Smith Center.
"I get emails to this day from all over the country of people who go and see the sculpture and take a picture with it," he says. "It's very special when I can do something that's so meaningful to the history and culture and arts in Las Vegas."
The Road to Reopening
Due to public health and safety guidelines during the pandemic, The Smith Center has cancelled or postponed over 450 performances, totaling more than $40 million in lost revenue.
As a nonprofit, The Smith Center needs community support now more than ever.
To help open The Smith Center's doors again, click here to support our Road to Reopening Fund.