6/29/2020
Education and Outreach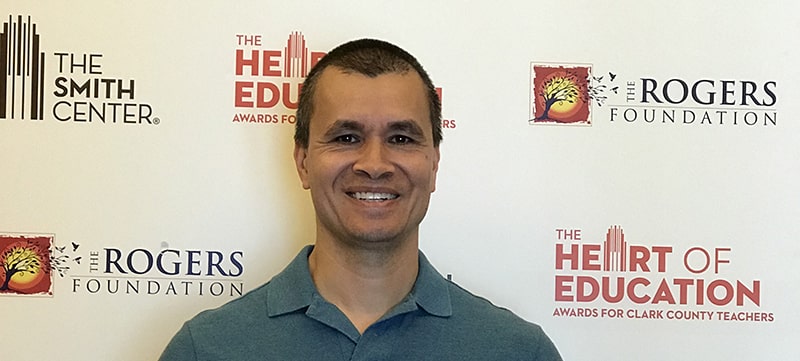 Richard Pokropski has no trouble filling his days.
During the school year, the teacher arrives at Centennial High School at 5:30 a.m. daily to train cadets with junior reserve officers' training corps (JROTC). This follows with a full day of teaching Naval Science and mentoring students in pursuing college and career dreams.
He remains after school for hours and often comes in on Saturdays, to split his time between tutoring cadets and training JROTC military drill teams, a fitness team, color guard and an academic team.
"The education of our young people is the key to our success as a nation," says Pokropski, who has taken JROTC teams to state and national championships. "I must do my part to help my students set high expectations and to achieve more than they ever believed possible."
Service and commitment define the life of Pokropski, who served 20 years in the U.S. Coast Guard and gave up a successful career as an attorney to work as a Navy JROTC instructor.
He gives special significance to the upcoming Fourth of July holiday, noting that "because of serving in the U.S. military, I've learned to appreciate how amazing it is to have the liberties, freedoms and comforts of being a U.S. citizen."
The Smith Center honored Pokropski's selfless teaching efforts this year with a Heart of Education Award, celebrating outstanding Clark County School District teachers who go above and beyond for their students.
With over 800 finalists for the fifth-annual Heart of Education Awards, Pokropski was among 20 top teachers to each receive a $5,000 cash award and a $1,000 donation to their school, thanks to support from The Rogers Foundation.
"I was humbled," Pokropski says of learning about his award through a surprise Zoom conversation with Myron Martin, Smith Center president and CEO. "Teachers are not often recognized for the extra hours, efforts and care that they invest in their students. As a result, it can be incredibly energizing for a teacher to be recognized."
Securing Full-Ride Scholarships
Pokropski transforms students' lives each year.
Beyond instilling communication and leadership skills in JROTC cadets, he helps numerous students achieve full-ride ROTC scholarships and free tuition through the Army and Air Force.
"To be quite frank, this provides me with the greatest satisfaction," Pokropski says. "Every year I strive to find more opportunities for students than the year before."
He also helps students shape their community.
Spearheading the JROTC volunteer program, he leads 270 cadets in community service throughout the year. This involved 10,000 hours of volunteering last year alone, including with food banks, churches, elementary schools, a NASCAR event, a PGA event and youth sporting events.
"We instruct cadets on how to build work ethic, perseverance, integrity and a sincere concern for the welfare of others," he says. "Our community service program is a key part of our strategy."
A Challenging Time
Pokropski's efforts haven't slowed with the pandemic.
"I've been in regular contact with students and their parents," he says. "In fact, (recently) I had a lengthy conversation with a student's father about a full-ride college opportunity for his son."
He appreciates how The Smith Center still honored Heart of Education Award recipients this year, even with the celebration event cancelled due to public health and safety guidelines.
"I was able to celebrate at home with my family, share videos, and feel grateful for the recognition," he says. "I'm honored to be a teacher."