7/8/2020
Education and Outreach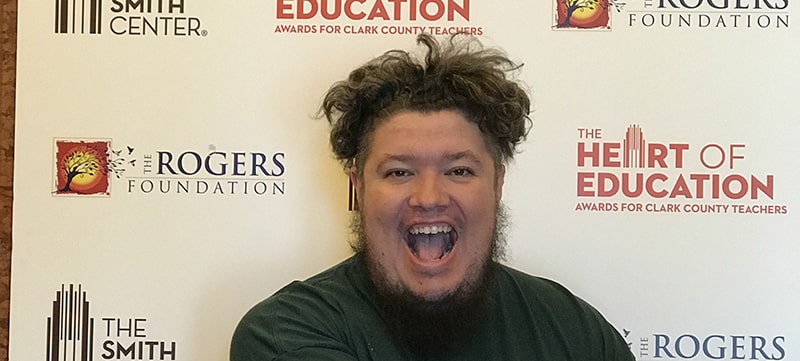 Tyler Swick says he likes the idea of breaking the mold.
Since founding the music program at Henderson's Ellis Elementary School just two years ago, Swick has successfully led "outside-the-box" thinking to grow the music club program to involve nearly a quarter of the school's entire population in music instruction.
"Kids can usually do more than what they tell you they can do," says Swick, who says he looks for every opportunity to challenge his students, whether in the classroom, outside the classroom or virtually.
When his school's budding music club had the opportunity to march in the Henderson St. Patrick's Day Parade last year, Swick jumped on the chance to showcase his students' talents in front of the wider community.
"Having hundreds of people cheer you on can be really motivating for a student," says Swick, whose music club students brought home a trophy that day for outstanding performance.
When Clark County School District (CCSD) shut down earlier this year due to the pandemic, Swick had a toolkit of ready-made video lessons for his students from a YouTube channel that he started several years ago when he was on paternity leave.
"I never stop looking for ways to innovate and offer direct instruction, even when I'm not in the classroom," says Swick. "My computer and its webcam are always on."
Making Magic for the Ears
The Smith Center honored Swick for building his music program from the ground up this year with a Heart of Education Award, celebrating outstanding CCSD teachers who go above and beyond for their students.
Swick was nominated by two of his students' parents, who say the concerts he develops for his students are magical. They claim there isn't a dry eye in the audience when they see how much he has transformed their children to be articulate vocalists and instrument experts.
"Tyler's highly popular choir and instrument clubs are a testament to how much he has inspired his students," says Dr. Shaun Cochran-Hall, Swick's principal at Ellis Elementary School. "He truly does make magic come alive for his students."
Swick was among 20 top teachers in the fifth-annual Heart of Education Awards to each receive a $5,000 cash award and a $1,000 donation to their school, thanks to support from The Rogers Foundation.
This is Swick's first Heart of Education win after being nominated four times. In addition to his creative approach toward teaching music, Swick was recognized for regularly coming in early before school to run music clubs, working tirelessly to raise funds for risers, instruments and equipment, and even finding the time to write original music for his students to learn and perform.
Swick says winning the Heart of Education award makes all the hard work worth the effort.
"Just being nominated is a big high-five, but to win is powerful validation at the end of the year that you've done a good job," he says.
A Lifelong Love of Music
A native Las Vegan whose father spearheaded CCSD's guitar program, Swick says his particular passion is the steel drum, which he fell in love with as a high school senior taking courses at the College of Southern Nevada (CSN).
When he became a CCSD teacher himself, Swick made it a point to introduce his students to the steel drum, the national instrument of Trinidad. In just six months, his students became the first ever elementary school to perform at the Las Vegas Day of Percussion, which celebrates prominent drummers and percussionists in Las Vegas.
When he's not teaching, Swick is a percussion substitute for the Las Vegas Philharmonic. He's performed several times at The Smith Center and looks forward to the day when he can return to play again.
"I truly believe that it will be music and art that help us to express ourselves and feel better after this challenging time," says Swick.