10/3/2019
Supporting the Arts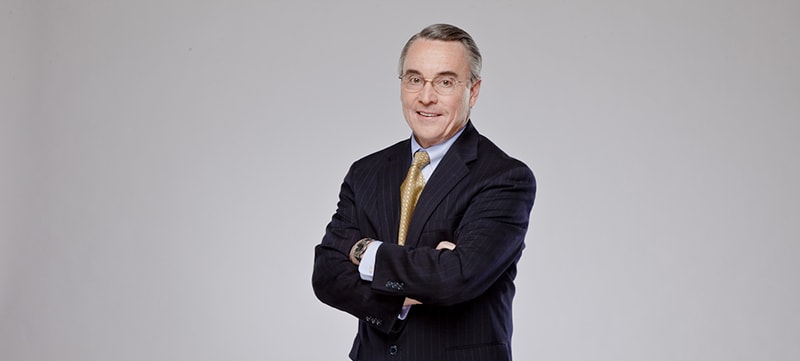 Community Leader Don Snyder on Ensuring The Smith Center's Future
There's little in Southern Nevada that Don Snyder hasn't influenced.
As the former president of the University of Nevada, Las Vegas, he played a key role with launching its new medical school. He cofounded Bank of Nevada and served as president of Boyd Gaming, and lent his business acumen to bring the Fremont Street Experience to fruition. He even led the initial efforts to entice the Raiders to move to Las Vegas.
"It was clear to me that the community had a lot of stuff that needed to be done, and there was a place for someone who wanted to get involved to do it," Snyder says of moving here 30 years ago as a banker.
Snyder chronicles his decades of shaping Las Vegas in his recently published autobiography "Taking the Lead," cowritten with bestselling Las Vegas author Jack Sheehan.
Snyder deems the book an encapsulation of his legacy as a community leader.
"I felt the book would allow me to memorialize the things that were especially important to me," he says.
And of his many dazzling achievements, Snyder lauds one as his most significant: his leadership with fundraising and opening The Smith Center for the Performing Arts.
This is emphasized with chapter six of his book, "The Smith Center, My Greatest Legacy."
"It's not an overstatement to call this entire project a dream come true," writes Snyder, chairman of The Smith Center board. "It is the culmination of nearly a quarter century of meticulous planning, hard work, unwavering passion for the end goal and certainly some good karma."
That's why Snyder places high priority now on sustaining the future of The Smith Center, to preserve this important piece of both his personal legacy and Southern Nevada's.
"From the very beginning, we said 'this is not just for those of us who live here today, but for our children and our grandchildren, and our grandchildren's children,'" Snyder says.
An Inspiring Rise
Snyder hails from a real-life Horatio Alger story, rising from the son of a tire salesman to a prominent businessman and community visionary.
He helped mold Las Vegas into the city it is today, including arranging and syndicating loans for the gaming industry, and helping secure significant funding for Clark County School District.
When a group of community leaders gathered in 1994 to discuss potentially pursuing a performing arts center in Las Vegas, Snyder knew he wanted to play a part.
"I saw a performing arts center as something that could help businesses and schools and industry make it much easier to recruit people," he writes in his book.
A Challenging Project
Snyder helped advance The Smith Center from an idea to reality through countless steps.
Upon becoming board chairman, he formulated a strategic business plan and tapped Myron Martin ⁠— now Smith Center president and CEO ⁠— to oversee the project.
Snyder and Martin spearheaded fundraising for the $470 million project among key private donors and The Reynolds Foundation, which provided a record $150 million total in donations that made the center's opening possible.
When Snyder finally attended The Smith Center's opening night in 2012, which included a PBS-broadcasted concert featuring stars like Carole King and Willie Nelson, it was "very emotional," he remembers.
"In degree of difficulty, The Smith Center was certainly as tough as anything I've done," he recalls.
Looking to the Future
Now comes the next step: securing The Smith Center's future.
"I want to make sure The Smith Center is a forever gift to our community," Snyder says. "The Smith Center will be here for 100 or 150 years, and we need to be able to sustain that."
This serves as the basis for the Campaign to Sustain The Smith Center, targeting to grow The Smith Center's endowment fund to $100 million and secure its future for generations to come.
This campaign welcomes contributions of every size, inviting all Southern Nevadans to play a part with ensuring the center's legacy.
"Someday people are going to look back at all the things that have been done because of The Smith Center," Snyder says. "They're going to see a major city having matured in many ways, but the cultural arts will have been helped substantially by The Smith Center."
How You Can Help
To help support The Smith Center's future, email Daniel Neel, vice president of Development, at [email protected]