1/14/2020
Performances and Artists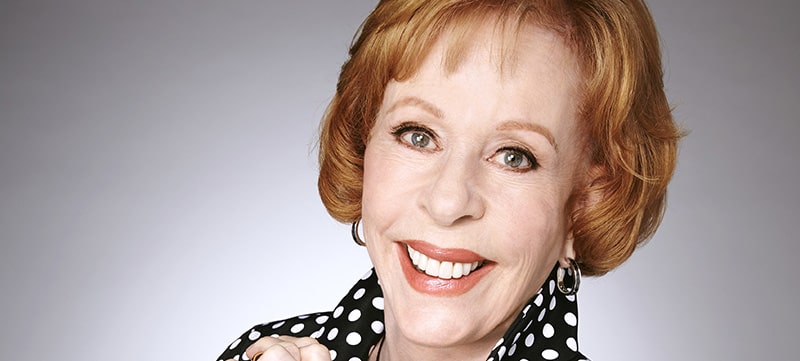 Comedy Legend Carol Burnett to Share Rare Stories and Clips of Her Career
Comedy icon Carol Burnett looks back on the 11 seasons of "The Carol Burnett Show" as "the peak" of her career.
"It never occurred to me (that I was breaking ground), because it was all I knew," says Burnett, who became the first woman to star in a comedy variety show.
Few Americans don't have a personal connection to Burnett's show that earned 25 Emmys and averaged 30 million viewers a week.
But there's even more to her impressive career than many people know.
Burnett returns to The Smith Center to share rare stories and clips from her legendary career, including a candid Q&A session with the audience.
For a taste of what's to come, enjoy a few surprising facts below about how she got her start.
She Originally Wanted to Be a Journalist
Burnett went to the University of California, Los Angeles with the goal of becoming a print journalist. As the school lacked a journalism program at the time, she opted for playwriting courses.
When she took a mandatory acting class for her theater-arts major, she found her true calling.
"I picked (a scene to perform) that was light and funny and I did it, and they laughed where they should've, and I thought 'wow,'" she remembers.
Her Big Break Came from a Stranger
Burnett may never have achieved success without the help of a stranger who saw her potential.
When she performed at a black-tie event as a college student, a gentleman and his wife approached her and asked about her ambitions. She described how she aspired to pursue musical comedy in New York City, but couldn't afford to go.
"He said, 'I'll give you the money,'" Burnett remembers. A week later, he wrote her a check for $1,000.
"I'd never seen that many zeroes in my life," she says.
He had three stipulations: she could never reveal his identity, she had to repay him within five years, and she had to help others if she proved successful.
Burnett fulfilled all three conditions. She repaid the loan "five years to the day," and went on to form a number of scholarships and offer personal favors to help promising performers.
To this day, she has never revealed her supporter's name.
She Starred on TV and Broadway – at the Same Time
Burnett's career took off with two overlapping opportunities. She landed the starring role in "Once Upon a Mattress" on Broadway, and soon after joined the cast of "The Garry Moore" television show.
This meant filming the TV show during the day, then performing on Broadway at night.
"For almost a whole year I was doubling. I was doing Garry's show and getting on the subway and doing 'Once Upon a Mattress,'" she recalls.
This did wear on her a little, at one Broadway performance in particular.
When her character was struggling to fall asleep on a pile of 20 mattresses, Burnett actually fell asleep on stage.
"The stage manager in the wings was saying, 'Carol, Carol wake up!' The audience, they didn't know," she remembers. "So, then they did give me a day off."
"Carol Burnett: An Evening of Laughter and Reflection" is currently a part of the 2019-2020 season.