10/21/2019
Performances and Artists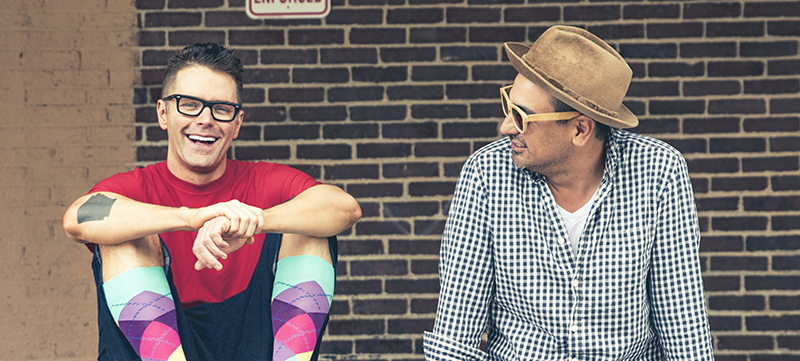 The Band That Didn't Exist
When acclaimed comedian and radio personality Bobby Bones first started stand-up comedy, he billed his act as "Bobby Bones and the band The Raging Idiots."
But for every gig, the band never showed up.
"Mostly because they didn't exist," Bones explains.
This became the hilarious introduction to his act, in which he would pull out his guitar and play a few fun tunes to compensate for the fictional band's lack of commitment.
Little did Bones know, he set into motion a whole other facet of his career.
Now the host of nationally syndicated radio show The Bobby Bones Show, Bones started penning parody songs with his radio show partner, Eddie ⁠— evolving The Raging Idiots into a comedy duo.
While the pair initially played for charity fundraisers, the popularity of their playful tunes exploded, including parody songs such as "Emoji Love Song" and "Hobby Lobby Bobby."
This resulted in recording four hit albums of comedy songs, including the newly released EP Live From Boston.
Now bringing laughs to leading venues nationwide, The Raging Idiots will perform November 15 at The Smith Center. Bones promises a thrilling performance.
"(The Raging Idiots) has really turned into something quite cool," he says.
Stand-Up, Parody Songs and 'American Idol'
While Southern Nevadans will enjoy many of The Raging Idiots' witty melodies at the upcoming show, including fan favorites and the band's latest hits, they can also expect far more.
"This show is very much a variety show," Bones promises.
That includes a "Broadway musical-type part of the show," he says, as well as stand-up comedy, the "two guys with guitars part," and even showstopping performances by Emma Kleinberg and Walker Burroughs, both popular American Idol contestants.
"(The show) moves fast, and hopefully with lots of laughs," Bones says.
Songs by Megastars
As the host of the No. 1 country-music morning show, Bones can tap into a full arsenal of top music talent.
That's why leading Nashville songwriters have penned tunes for The Raging Idiots.
It's also why the parody group has recorded with country stars like ,Garth Brooks, Kelsea Ballerini, and Charles Kelley from Lady Antebellum.
"Mostly they work with me because we are friends," Bones says.
Audience members might get to preview The Raging Idiots' all-new tunes at the upcoming show ⁠— with Bones watching listeners carefully.
"We often test songs at shows, then take (the show footage) back, watch them and try to make certain lines funnier," he explains. "Our favorite (songs) are the ones that people know the most, and the ones that are being played for the first time."
"Bobby Bones & The Raging Idiots… It's Just The Two Of Us… Sorry!" was a part of the 2019-2020 season.