10/8/2019
Education and Outreach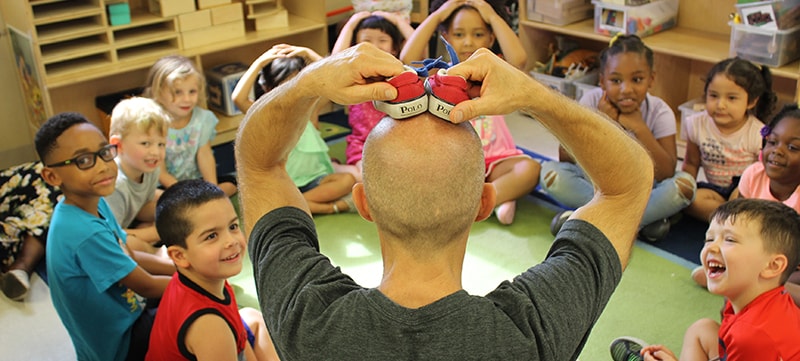 Smith Center Program Trains CCSD Teachers on Appying Arts in the Classroom
Juan Gonzalez, a special education teacher with Clark County School District, still remembers his astonishment at watching a Smith Center teaching artist incorporate musical instruments into classroom lessons with his students.
"The response from my students was just amazing," Gonzalez remembers. "She was able to get all their attention, keep them engaged and give them a new way to interact with the material."
This represents the target result of the Southern Nevada Wolf Trap Early Learning Through the Arts program offered through The Smith Center, a nonprofit organization.
Now 10 years old and funded by generous support from the Elaine P. Wynn and Family Foundation, this initiative places the center's professional teaching artists in multiple-week residencies with classes at Title 1 preschools each year ⁠— all at no cost to schools. This impacts students ages 3 to 5, in a variety of classroom settings.
During these residencies, teaching artists demonstrate how to involve art forms such as storytelling, music and theater with teaching a variety of subjects. They also train teachers on using these tools.
The goal: to heighten student engagement and retention of information, by routinely involving the arts in class.
Gonzalez says he still applies all of his teaching artist's ideas in his classroom each day.
"(The residency) helped me become a better teacher," he says, adding that he involves music with all of his lessons, including math and story time. "There is never a boring day in my classroom. It's just amazing what music can do in the world of special education."
He's seen direct results with his students, he adds.
"After integrating the drum to practice the alphabet daily, one of my nonverbal students finished the year recognizing and pronouncing all the letters of the alphabet," Gonzalez says.
Creativity in the Classroom
Success stories like these reflect how this program has blossomed since its inception in 2009, when The Smith Center became an affiliate of the international Wolf Trap Institute for Early Learning Through the Arts™.
While the center originally initiated the program to provide professional development for community early childhood centers, donor support allowed the program to expand and serve CCSD pre-K classrooms, impacting thousands of Southern Nevada students.
The program targets to reach an additional 50 classrooms and impact 700 students this fiscal year, says Kim Russell, program manager with The Smith Center's Education and Outreach Department.
"Weaving the arts into learning not only hooks children's attention and enhances their retention, but it also makes learning a joyful experience," Russell says. "This gives children freedom to embrace creativity."
Teaching artists apply a wide variety of art forms into their classroom residencies, Russell adds, including dancing, playing instruments, puppetry, singing and more.
Numerous studies show these activities support early childhood learning, Russell notes.
"Active storytelling uses critical reasoning and teamwork to increase confidence in making choices and following directions," she notes. "Sequential dance movements improve recall and motor skills."
New Teaching Approaches
Wendi Schipani, a preschool teacher at Pat Diskin Elementary in Las Vegas, gives a long list of arts elements a teaching artist applied in her classroom, including music, puppetry, dancing and acting.
"The bond the kids formed was truly inspiring," Schipani says.
Now she uses these tools with reading and math lessons, plus transitioning between activities.
It's all worthwhile, she says, to see her students' heightened confidence and enthusiasm in class.
"Myself, the students and parents will remember the Southern Nevada Wolf Trap residency for the rest of our lives," she says.
LEARN MORE
The Smith Center provides numerous education and outreach initiatives impacting tens of thousands of Southern Nevada students each year, at no cost to schools. To learn more, click here.
Southern Nevada Wolf Trap (SNWT) is a program of The Smith Center for the Performing Arts supported by the Elaine P. Wynn and Family Foundation. The program's original support was provided by United Way of Southern Nevada and Citi. The UWSN Women's Leadership Council and The Hearst Foundation have also provided support to continue the Southern Nevada Wolf Trap Foundation program. Currently, the Elaine P. Wynn and Family Foundation is continuing the legacy of this program.
Wolf Trap Institute for Early Learning Through the Arts is a program of the Wolf Trap Foundation for the Performing Arts.