9/10/2019
Performances and Artists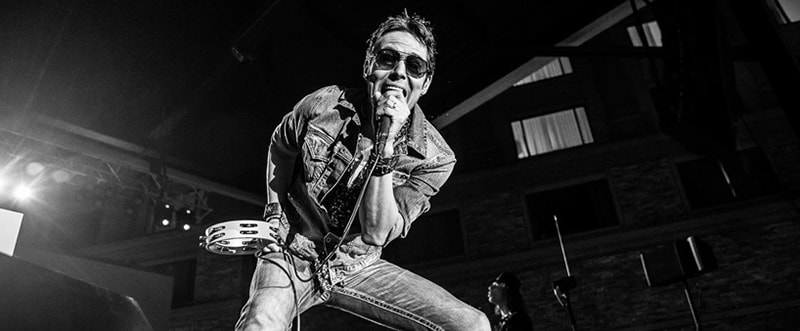 Vegas Favorite Brody Dolyniuk to Deliver Explosive Tribute to Queen, Pink Floyd, The Who and Led Zeppelin
When selecting the most electrifying artists to spotlight in an explosive tribute to British rock, Brody Dolyniuk knew he had his pick of several beloved groups and singers.
But in the end, he says, it all came down to four bands: Queen, Pink Floyd, The Who and Led Zeppelin.
"(These groups offered) just great, well-crafted songs, performed by iconic musicians during an era where rock 'n' roll was exploding into the arena rock format," explains Dolyniuk, a Vegas favorite for his showstopping Symphonic Rockshows at The Smith Center, and who also founded hit Vegas tribute band Yellow Brick Road. "It's a snapshot in time where the planets were just aligned and magic was happening."
His anticipated British Rock Royalty show on October 5 at The Smith Center will do these groups justice, he assures, delivering their numerous hits in a dazzling format bursting with visual effects to enhance Dolyniuk's vocals and his fiery five-piece band.
"If you're a huge fan, or even a casual a fan of The Who, Pink Floyd, Queen or Led Zeppelin, I guarantee you'll love the show and how we're presenting the music - with love and respect for it," he promises.
How Four Bands Made History
Dolyniuk personally worships these four bands because they each "are unique and offer their own flavor," he says.
Each has contributed to the rock 'n' roll canon, with classics recognized across generations and featured in numerous films, just a few including Led Zeppelin's "Stairway to Heaven," The Who's "Baba O'Riley," Pink Floyd's "Another Brick in the Wall" and Queen's "Bohemian Rhapsody."
Beyond their enduring songs, they also dazzled the world with their unabashed showmanship at concerts, spanning Robert Plant's mic twirling, Freddy Mercury's giddy stage presence, Pete Townsend's guitar smashing and Pink Floyd's use of animations and puppets.
When asked about the likelihood of a small country like Britain producing such a bevy of gifted, groundbreaking bands in the '60s and '70s, Dolyniuk points to the international success of another British group that preceded them all - the Beatles.
"After the Beatles grabbed American blues and rock 'n' roll, it spawned a whole generation of other acts who shared their enthusiasm and desire to make their own mark on the music world," Dolyniuk says. "(There was) competition to be the best, write the best music, put on the biggest shows."
Vegas Makes its Mark on British Rock
Dolyniuk himself seems locked in a competition, to outdo himself with every new tribute show.
His band members, as well as surprise guest solo artists on saxophone and violin, were each hand-picked from the Vegas and Los Angeles music scenes to perform these groups' songs "with great attention to detail and authenticity," Dolyniuk says.
"These are musicians who truly understand the classic rock genre," he adds. "Everyone in the group is worthy of the price of admission on their own."
He has also thrown himself into preparing elaborate visual effects to honor and in many ways replicate the epic concert experience that made these bands stand apart.
"The visuals — lighting, lasers, special effects, video — will be over the top," Dolyniuk vows. "I try to put as much effort into the visual aspects as I do the sonic aspects."
He has no worries about performing these bands' vocally demanding hits with athletic stage presence for two hours straight.
"It's definitely a workout, physically and vocally, but two hours goes by incredibly fast when you're caught up in the moment," he says. "I wish I could do a four-hour show."
"British Rock Royalty Presented by Brody Dolyniuk" was a part of the 2019-2020 season.