11/21/2018
Performances and Artists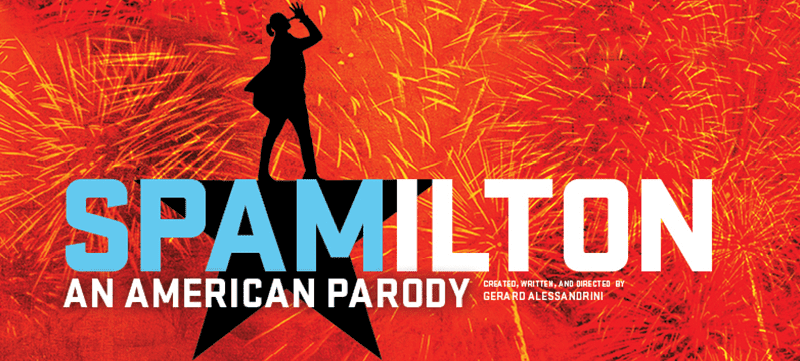 Forbidden Broadway's 'Spamilton' Blends Clever Song, Dance and Satire
When Gerard Alessandrini witnessed the sweeping impact of Broadway phenomenon "Hamilton," he knew just what he had to do.
He had to spoof it.
"It was the biggest hit show to arrive in Broadway since I had come there in 1981," remembers Alessandrini, whose Tony-winning revue Forbidden Broadway has parodied top Broadway productions for decades. "I thought 'Wow, I've spent most of my life spoofing Broadway shows — I have to do this one.'"
Himself an ardent "Hamilton" fan and a veteran playwright and director, Alessandrini took this comedic undertaking seriously.
The result was the highly acclaimed parody musical "Spamilton: An American Parody" — coming January 22 to February 10 at The Smith Center — offering clever, satirical songs, energizing dance numbers and an upbeat approach appealing to theater fans and newcomers alike.
"It's a good family show. We get a real cross section of ages who see it," he says. "I hope audiences feel the same joy seeing this that I felt when 'Hamilton' arrived in New York."
A Hilarious Parody
While promising nonstop laughs, "Spamilton" is no vapid comedy show, Alessandrini assures.
Showcasing impressive music and dance numbers, its plot deconstructs and pokes fun at Lin-Manuel Miranda's creation of "Hamilton" and the show's overwhelming popularity.
Alessandrini achieved this by packing "Spamilton" with parody versions of hit "Hamilton" songs, all infused with witty references and satire.
This includes turning the original show's song "What'd I Miss?" into the spoof "What Did You Miss?" satirizing the density of information in "Hamilton."
"It's easy to parody a show that takes itself a little seriously, and 'Hamilton' is about a very serious time in history," he says.
Another "Spamilton" song, "Who Lives, Who Dies, Who Cries," spoofs the original show's tear-inducing closing number.
"We've turned the ("Hamilton") lyrics inside out," Alessandrini says. "The point was to make it all as funny and zany as it could be, with lots of both parody songs and parody dancing."
No 'Hamilton' Knowledge Required
Audiences don't need to see "Hamilton" to enjoy "Spamilton," Alessandrini emphasizes.
That's because the show also parodies the overall theater industry, with jokes about Stephen Sondheim and many famous Broadway shows, spanning "The Music Man," "West Side Story" and more.
Even non-theatergoers will appreciate the physical comedy and the cast's skilled performances.
"You can enjoy this on many levels," Alessandrini assures. "By itself, it's a really funny show. Even if people haven't seen Broadway shows, they can enjoy the music and dancing, and those who have seen 'Hamilton' will get the inside jokes."
Lin-Manuel's Seal of Approval
Beyond rave reviews from The New York Times, The Huffington Post, New York Post and more, "Spamilton" has received the most coveted praise of all.
"Hamilton" creator Lin-Manuel Miranda not only tweeted that "I laughed my brains out" watching "Spamilton," he also sent his entire family to see the show.
"It feels wonderful, and I'm thankful for him and for being a good sport," Alessandrini says. "I think this show is hilarious, and it's fun, lighthearted entertainment."
"Spamilton" was a part of the 2018-2019 season.