4/17/2020
Discovering The Smith Center / Community Impact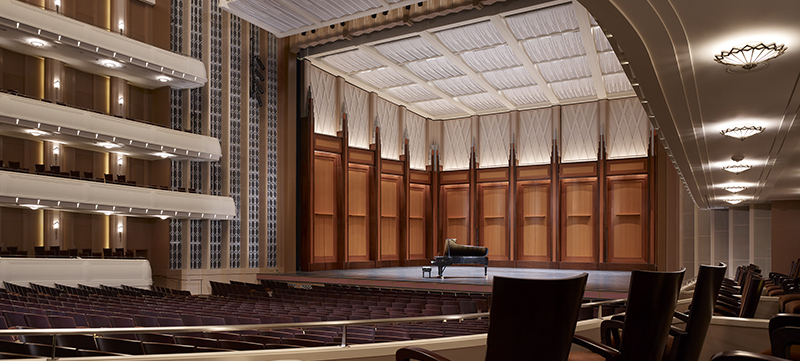 When Marise Mizel first moved to the Sun City Summerlin active-adult community, she immediately joined the community's travel club.
"I wanted to go places and do things, and meet new people," explains Mizel, now club president.
With 370 members, the group's favorite activities together include frequent visits to The Smith Center. Keeping members apprised of the center's upcoming music, theater and dance shows, the group sees roughly four performances a month, with at least 20 attending each show.
This includes Broadway performances, as the club owns 29 subscriptions to the center's Broadway series.
These outings provide new socializing opportunities for many community residents, Mizel says.
"Many club members live by themselves, or have a spouse who does not want to attend shows," she says. "So now, they can go with friends."
They also enjoy the many advantages of visiting The Smith Center as a group.
Groups of 10 or more that purchase show tickets together receive a variety of benefits, including special ticket savings, priority seating, flexible payment plans and more.
Any collection of people can purchase tickets as a group, such as church members, scouts, coworkers attending for corporate outings, Meetup groups, families and more.
Like Mizel's travel club, many groups embrace visiting The Smith Center together to bond with other people over a shared passion for the arts.
"Many of our club members joined mainly because we go to The Smith Center," Mizel says.
Close-Knit Outings
Other groups share similar stories.
Residents of the Sun City Mesquite active-adult community always look forward to group outings together, both as opportunities to socialize and to enjoy new experiences.
"These bus trips are a close-knit activity," says community Lifestyle Director Deborah Demos. "We get to see the faces that match the names of our residents, and get to know their interests."
As many residents enjoy the arts, these outings include regular visits to Smith Center performances. Every show receives high praise from residents, Demos says, and they never fail to return with a "really good vibe" on the bus ride home.
They often pair visits to The Smith Center with eating at a downtown restaurant.
"We have many sports enthusiasts here, and The Smith Center shows give us lots of other choices," Demos says. "Popular shows bring cultural diversity to our residents."
Making Lasting Memories Together
As lifestyle director of the Siena Community Association in Summerlin, C.J. Hill works hard organizing monthly outings she knows residents will enjoy.
She ensures this includes several trips a year to see performances at The Smith Center, as many of its shows appeal to the community's 55-plus age group.
"We often see classic Broadway shows, or entertainers who were popular in the '50s, '60s and '70s," Hill says. "We've also attended shows in Myron's Cabaret Jazz theater. Vocalist Clint Holmes is a local favorite."
Seeing this variety of performances allows community residents to grow closer and keep the arts an ongoing part of their lives, she says.
The residents also make special memories that only live shows can offer, including when they saw "Max, Peta and Val" featuring dancers from "Dancing with the Stars."
"One of our residents was invited up on stage and danced with the pros," Hill says.
Learn More
To learn more about the benefits of purchasing Smith Center tickets as a group, click here.