12/16/2019
Broadway Las Vegas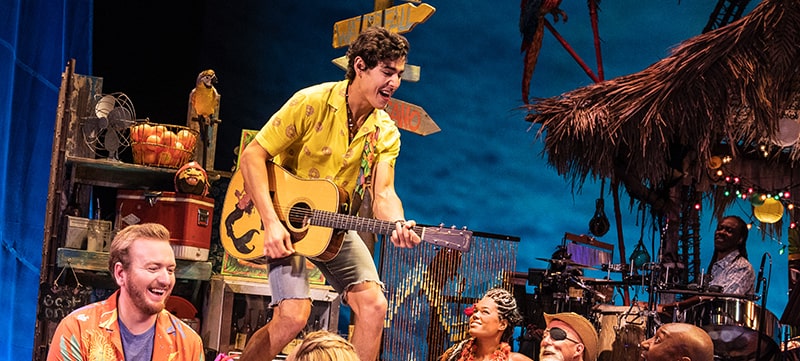 Broadway Musical Escape to Margaritaville Features All Jimmy Buffett Tunes
Audiences can expect one undeniable certainty at Broadway musical Escape to Margaritaville, promises Aimee Lane, the tour's dance captain: It will be a nonstop party.
Featuring entirely Jimmy Buffet tunes, including beloved classics such as Come Monday, Volcano and Margaritaville, the show infuses these catchy melodies with full-blown, energizing dance numbers and an uplifting romantic comedy.
Above all, the show embraces the worry-free nature of Buffett melodies, helping audiences leave with the feeling they just went on vacation.
"From the minute you walk through the door, we set your minds on island time," Lane says. "Buffett music is playing while you grab a drink and find your seat. Then the show begins, the dancers take the stage, and the opening number shoots you right out of a cannon. Then it only goes up from there."
And while many audiences sing and dance along to the show — coming to The Smith Center January 7 to 12 — Lane emphasizes that this jukebox musical also delivers a joyful and compelling storyline about characters chasing their dreams.
"You are going to witness a touching story," Lane says. "Our writers Mike O'Malley and Greg Garcia have written a show that packs a punch in so many ways."
Bringing Buffett to Broadway
Buffett's music pairs well with theater, Lane says.
"Jimmy Buffett is an incredible storyteller," she says. "His music lends itself to taking listeners on a journey. What more could you ask for, when coming to a show about escaping reality?"
The show's creative team reimagines these tunes with new tempos, she notes, bolstered by the cast members' showstopping vocals.
These elements will hook all audience members, she adds, whether they know every song by heart, or come as newcomers to Buffett's music.
"(The reimagined songs) keep the show fresh for even the most diehard Parrotheads," she says.
Putting the Band Center Stage… and More Surprises
Adding to the musical's immersive quality, the production's eight-piece band remains on stage throughout the show, Lane says.
This even involves integrating the musicians into the story, as a hotel band.
"The band members are not only playing some killer Jimmy Buffett tunes, but they also play along in the scenes," Lane says.
The show's choreography fully embodies "what it means to just let your hair down," she adds, including sizzling lifts and elaborate partnering.
Some of the dancing might even involve audience members, Lane hints.
"The dance numbers truly bring the show to a whole different level of fun," she says. "Act Two also features a surprise dance number that you will definitely not see coming."
Wasting Away at a Seriously Fun Show
Lane encourages audiences to come in the spirit of forgetting stresses and having fun.
"In this day and age, we all need a place to escape to, even if it is just for a few hours," she says. "We don't make you think too hard, we won't make you cry, we won't drain you emotionally. We are going to put on a party of a show, and you're invited."
"Jimmy Buffett's Escape to Margartitaville" was a part of the 2019-2020 Broadway Las Vegas season.
Photo Credit: Company of the National Tour, Jimmy Buffett's ESCAPE TO MARGARITAVILLE. © Matthew Murphy