4/30/2020
Performances and Artists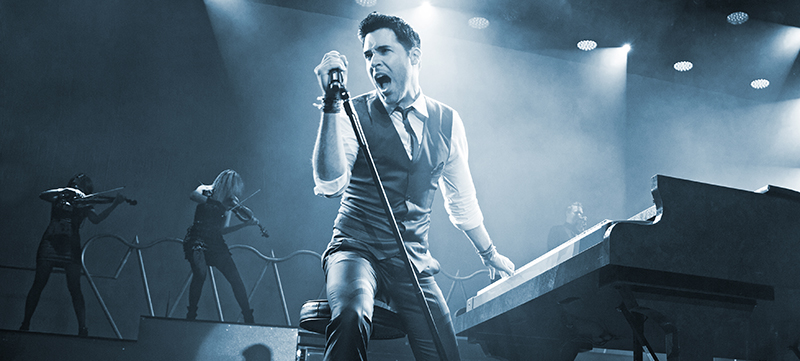 While Vegas headliner Frankie Moreno remains homebound with the rest of Nevada during the pandemic, that won't stop his music.
A regular performer at the 240-seat Myron's Cabaret Jazz club at The Smith Center, Moreno continues to write and release new songs every week from his home studio.
All of the proceeds benefit COVID-19 relief.
"I'm not me without being able to sing for people," says Moreno, an Emmy-nominated, singer-songwriter-musician. "It's what makes me feel like I have a purpose."
With his concerts and worldwide touring canceled for social distancing requirements, Moreno turns to social media as his only opportunity to perform.
He continues to live stream and record concerts from his home, throughout the ongoing weeks.
"It's really just an outlet to be able to connect with everyone," Moreno says. "It's a way of giving them a little break from thinking about all the negative. And it does the same for me."
Performers Keeping the Arts Alive … From Home
Many Vegas artists who often perform at Myron's Cabaret Jazz seek new creative outlets, while the stage remains dark.
"When people ask me what I would do if I couldn't perform, I always say 'write,'" says Grammy-nominated vocalist Clint Holmes.
Holmes now dives into writing every day, including penning a new musical play and crafting songs.
He practices daily vocalizing to keep his instrument in shape, and also records performances at home that he posts on social media, while closely following the online concerts of his fellow artists.
"We don't want people to forget us, and we also need to keep creating," Holmes says. "Right now technology is saving us, I've even learned Zoom, but nothing will replace the interaction we have as artists in the room and in the moment. There is no substitution for performing on the stage in Myron's."
Paying It Forward
Vegas singer-songwriter Michelle Johnson, also a beloved performer at Myron's Cabaret Jazz, invests her down time with teaching skills from her vast entertainment career.
She provides educational, online streaming programs about performing, developing shows and more.
"I want to pay it forward when and wherever I can, and now I have time to make that happen," says Johnson, who has performed with top artists such as Elton John, Gladys Knight and Barbra Streisand.
To engage audiences, she conducted a Facebook Live event on The Smith Center's page at 3 p.m. on May 5, involving a live Q&A and showcasing videos of her hit performances at Myron's Cabaret Jazz.
"I want to bring a taste of the lighting, sound and intimacy of Myron's Cabaret Jazz into (viewers') living rooms, so that they can't wait to get back there when it reopens," Johnson says.
She also devotes her time at home "writing songs like crazy" and organizing virtual rehearsals for events she produces.
Johnson wholeheartedly believes these efforts will pay off, and that live performances will return "stronger and more powerful than ever" down the road.
"You cannot keep the arts and the public apart," she says. "It is a love affair that has been going on since the beginning of time."
A New Show in the Works
Moreno also looks forward to audiences' return.
His efforts at home include developing an all-new, live show — which he looks forward to unveiling at Myron's Cabaret Jazz in the future.
"(Following the pandemic), I think people will crave more realness from performers to comfort them," Moreno says. "I think it will be better for everyone."