4/24/2020
Performances and Artists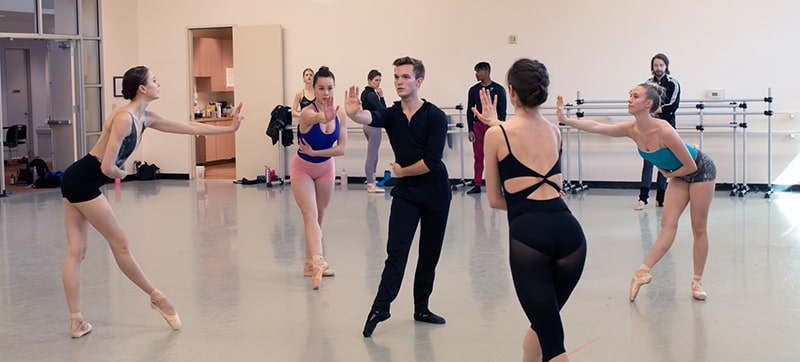 Smith Center Resident Companies Get Creative During Social Distancing
Many ballet dancers find it devastating to go long periods without activity, says Roy Kaiser, director of Nevada Ballet Theatre (NBT).
"They spend hours a day rehearsing," he says. "For every week a dancer takes off, it takes two weeks for them to get back (to their athletic standard)."
That makes social distancing requirements for the pandemic challenging to bear.
Beyond canceled performances, NBT dancers can't even rehearse together or attend classes.
"They've been off for three or four weeks now," Kaiser says.
So, they choose to do what they do best: get creative.
Like performers around the world, NBT's dancers currently stay active at home by taking online dance classes, as well as yoga and pilates. To engage with audiences, Kaiser conducts weekly email outreach about arts and culture around the world.
The company's affiliated academy also offers virtual dance classes for its students, which helps them stay in shape and see their classmates weekly.
"The students can all see (the instructor) on their video monitors, and we see them in their living rooms and hallways and kitchens, holding onto chairs instead of ballet barres," Kaiser says. "We don't know how long this will go on, and we're trying to adapt as best we can."
Artistic Limbo
These dancers fall among a multitude of Vegas performers caught in artistic limbo with social distancing — unable to perform, rehearse or attend classes in person.
This threatens to rust their abilities, and many feel the loss of artistry that defines their lives.
"(For artists to not perform) is simply heartbreaking, sad and frustrating," says Dee Ann Letourneau, concertmaster of the Las Vegas Philharmonic.
That's why many seek every opportunity to practice and share their talents.
"Through all plagues, all wars, all protests, art has survived and helped civilizations process emotion," Letourneau says. "We will survive this, too."
Private Lessons Via Screen
Group rehearsals remain "all but nonexistent" for the Las Vegas Philharmonic, Letourneau says.
"It would be nice if someone could create a (digital) music platform where you could play simultaneously and be able to hear each other," she says. "Hint hint, to any programmers out there."
But she and other philharmonic musicians like bassoonist Alex Rosales Garcia still give virtual private lessons, using applications like Facetime, Zoom and Skype.
"It's actually very productive," Letourneau says. "Getting the student to try things alone where I normally would play along with them has been an interesting discovery."
A New Social Media Frontier
Many homebound artists across Vegas — and worldwide — take their talents to a new venue: social media.
Artists from the world's top performance companies regularly post live and recorded performances.
This includes The Smith Center launching its Living Room Series, featuring virtual concerts with artists who regularly appear on its stages.
"Social distancing has forced the performing arts to interact with their audience through social media and other online formats in a more engaged and profound way," says Donato Cabrera, music director with the Las Vegas Philharmonic.
The philharmonic embraces this trend, by posting videos on its website of its artists' performances.
Cabrera also hosts weekly Facebook Live events where he can answer questions, interview top artists and provide "a public voice and conduit for the arts in Las Vegas," he says.
Embracing Down Time
Many artists have come to terms with free time.
Garcia enjoys this break from a classical musician's typical packed schedule of weekly performances, sometimes with multiple orchestras across different states.
"It turns out I'm a really great cook," he says. "As I'm home more, I've also gotten to know my neighbors better."
Letourneau invests her extra time with practicing.
"(My violin playing) has been tremendous in helping me navigate through the anxiety of the unknown," she says.
Kaiser looks ahead to the upcoming season, convinced this pandemic will not hinder the arts in the long-term.
"We'll get to a point where people are comfortable going out to the theater again, and they will be craving art and entertainment," he predicts. "For now, we're learning to communicate with our constituents in a very new way, and I think that's exciting and it's something I hope we carry forward."