2/10/2020
Performances and Artists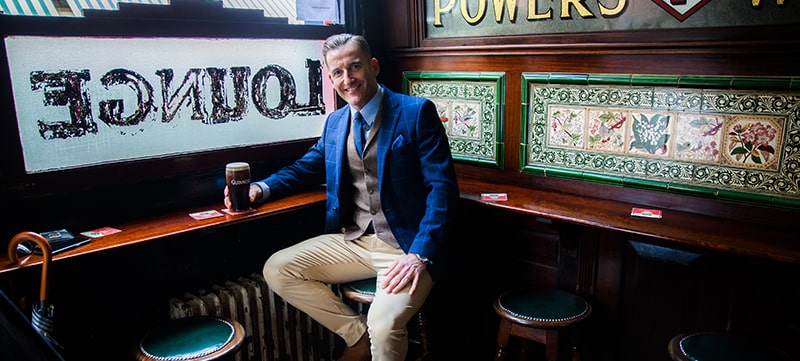 Grammy-Nominated Vocalist Paul Byrom to Deliver Songs and Stories of Ireland
Without a doubt, growing up in Ireland groomed Paul Byrom for success as an entertainer.
Music intertwines with all aspects of life in his native country, Byrom says. This only spurred his rise as a vocal prodigy, recording his first album at 14.
"Everything in Ireland is based around music. Every wedding, every funeral, music is everywhere," says Byrom, a Grammy nominee hailed as one of Ireland's premier tenors. "The Irish also love talking and telling stories, and writing poetry and literature, and those lend themselves easily to music."
He continues to honor his Irish roots as he tours worldwide, singing beloved Irish melodies and sharing heartwarming anecdotes of life and culture in The Emerald Isle.
Byrom also enjoys discussing his own personal journey, which Southern Nevadans can look forward to hearing at his March 14 concert.
He often tells stories of transitioning from Ireland to America. He also highlights the influence of his father-in-law, Irish singer-songwriter Phil Coulter, the only non-American songwriter to pen a hit for Elvis.
"I like the idea of audiences leaving my concerts knowing me a little better than when they came in," Byrom says. "It's a celebration of Irish music and stories, and it's very lighthearted."
From Ireland to America
While Byrom gave concerts across Ireland as a teenager, "my father and mother didn't take it all that seriously," he says. "They knew the priority for me was to get through school, and do normal things a child would do."
His goal remained to launch a singing career in America, which didn't come easily.
Byrom first toured the U.S. in his 20s with the Three Irish Tenors, but then returned home. Finally, his father-in-law connected him with the acclaimed, Irish singing group Celtic Thunder.
"I joined in the hope that I might be able to reenter America and have a career over there," Byrom says.
Joining Celtic Thunder provided that, and more.
During his years with the group, Byrom toured the world, including performing at the White House for then-President Barack Obama. The group recorded six No. 1 World Billboard albums.
"That was always the goal and the hope," Byrom says. "I was always hoping to be more of an international act than an Irish act."
A Diverse Musical Palate
Now with a celebrated solo career, Byrom distinguishes himself by performing a wide range of songs.
While his shows remain faithful to Irish melodies, he also belts Broadway showtunes and contemporary hits.
"I try to avoid being pigeonholed, and do a bit of everything," Byrom explains.
Audiences at his upcoming show will enjoy a delightful mix of songs and stories to please many tastes, he adds.
"It's a concert for everyone," Byrom says.
Paul Byrom performed in March of 2020 in Myron's Cabaret Jazz.