6/26/2019
Performances and Artists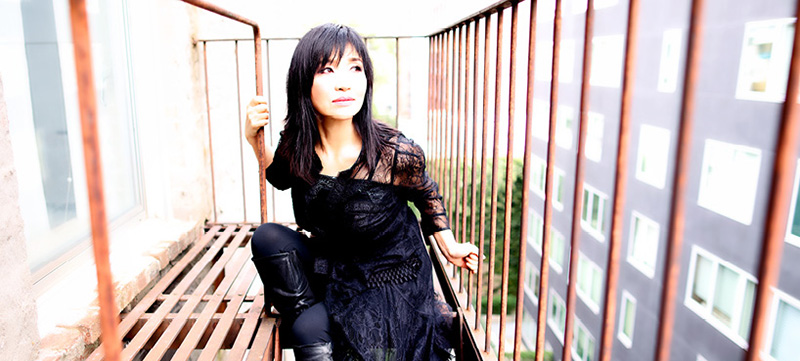 Acclaimed Jazz Pianist to Fuses Jazz, New Age and Global Rhythms
After growing up in Japan, contemporary jazz pianist Keiko Matsui approaches both her life and music with a unique spiritualism.
This includes the animism practice of respecting the spirit inside all creatures and objects — her piano, among them.
"At the end of my rehearsals or practices, always, I bow to my piano," Matsui says.
This reverence for life might serve as the reason why the acclaimed artist has intertwined her sweeping instrumental music with global causes throughout her decades-long career, which includes sharing the stage with greats such as Miles Davis and Stevie Wonder, as well as recording 28 hit studio albums.
Matsui remains famous both for this prolific success, and for dedicating her music to advocate for significant issues, such as world hunger, breast cancer, environmentalism and the victims of natural disasters.
Inspiring people through music offers an important way to make change, she says.
"Music connects us beyond culture and religion, and after every show from fans' comments, I realize and notice that my music is involved with some other soul's life," says Matsui, who performs hits from her new album "Echo" on September 28 at Myron's Cabaret Jazz. "I feel like this is my mission."
From Piano Lessons to Topping the Charts
For a long time, Matsui never imagined becoming a professional musician.
She enjoyed taking piano lessons in her youth like her peers, until an opportunity to compose for a movie soundtrack in high school opened her eyes to the joys of a music career.
"When I started my career in the U.S. (in the late 1980s) and my music touched many souls, I felt so honored and grateful," she says.
Since then, Matsui has gained a global fandom for her impressive finesse on the keyboard and her original stylings that blend jazz, new age and global rhythms.
Her jazz albums have also topped the Billboard Contemporary Jazz Chart, including her 2016 album "Journey To The Heart" that debuted at No. 1.
She is hailed as the first Japanese artist with an album that topped the chart for three consecutive weeks.
Touring the globe each year, Matsui attributes all of her success to her fans, the reason behind the title of "Journey."
"The title has several meanings. One is the journey to discover myself, and the other is the journey to my fans' hearts, to carry my sincere gratitude," she says.
Impacting the World
Matsui also shares her gratitude in other ways.
Namely, by weaving her recordings and touring into fundraising and promoting awareness of global issues.
"I feel I'm so fortunate because I'm healthy and I can travel with my music," Matsui explains. "I want to give something back through the music."
She takes this promise seriously.
Her efforts include using the title track of her "Wildflower" album to support the United Nations World Food Programme's efforts in Africa.
"I did a record in South Africa, and I feel we can do something," she says, adding that she made many friends there who inspired her.
After September 11, she participated in a large-scale concert benefitting the victims and their families, an emotional show in which she performed with Wonder and jazz leaders like Dave Koz.
She further offered support for Japan's recovery following the devastating 2011 tsunami and the Fukushima nuclear disaster.
Matsui even pursued a special recording to support conservation efforts in Antarctica, and has toured and performed to raise awareness of breast cancer.
This included her performing at a skating benefit for the Susan G. Komen Foundation that showcased Olympic figure skaters Kristi Yamaguchi, Tara Lipinski, Ekaterina Gordeeva and Katarina Witt.
"I have many opportunities because I'm contacted by organizations, so when I find a great cause, I dedicate my music (to it)," she says.
A Concert Experience to Remember
Just as Matsui connects to others through world causes, she does so with her live performances, as well.
"A live show is very special," she says. "(The audience and I), we share the air together and we share experiences together."
She strives to make her live shows an engaging experience. Past concerts have featured video of the causes her music supports, and she often charms sold-out venues with her banter between tunes.
"That kind of experience I like to share with everyone," she says. "When I see the audiences' smiles, that gives me energy to keep going."
Keiko Matsui performed in Myron's Cabaret Jazz in September of 2019.