9/27/2019
Community Impact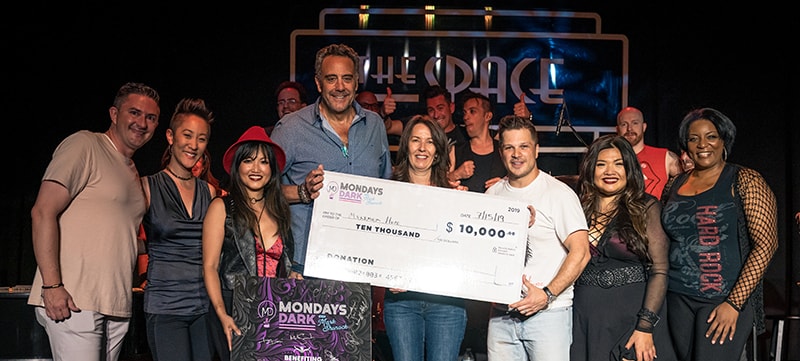 Every two weeks, Las Vegas resident Mark Shunock and his Mondays Dark team pull off the impossible.
They organize and present an entirely new variety show with a specialized theme, showcasing a fresh lineup of top Vegas entertainers — each time raising $10,000 in just 90 minutes for a different Southern Nevada charity.
"We have a small but fierce army," says Shunock, who cofounded the nonprofit in 2013 with his wife Cheryl after they moved to Las Vegas to star in "Rock of Ages." "We raise $10,000 in 90 minutes because of the tireless work of our team and the amazing energy and effort of the featured charity."
Mondays Dark has achieved stunning accomplishments since its founding six years ago, with its Monday-night events honoring traditional show schedules where most performances are dark (off) on Monday nights, leaving performers free to participate.
Mondays Dark has partnered with 100 charities as of this December, and Shunock has established a permanent home venue for his variety shows, The Space, which also hosts other community events.
The Mondays Dark shows — with tickets just $20 — remain among the hottest draws in town.
How has this nonprofit accomplished such success?
"That's easy," Shunock says. "It's $20. It's 90 minutes. And the talent is amazing! You get to see some of the best performers in town doing something unique in a crazy, fun environment."
A Show Where Anything Can Happen
Offering a new lineup of world-class performers every two weeks helps keep interest strong.
With the featured entertainers always kept a surprise — and encouraged to perform whatever they wish — any Mondays Dark event can include Vegas favorites such as Grammy-nominated vocalist Clint Holmes, and any variety of Strip and community performers.
"We've hosted Grammy winners, Tony winners and ensemble members from local theater companies," Shunock says. "What makes Mondays Dark at The Space so special is that you never know who you're sitting beside in the audience, and you never know who's going to show up."
While recruiting entertainers was initially tricky, now performers eagerly volunteer their time and talent.
"Mondays Dark has become an escape not only for the audience, but for our amazing group of entertainers," Shunock says. "Our charity event allows them to try something different and let their hair down."
Helping Southern Nevada Charities
The Mondays Dark board of directors has the hardest task, Shunock says: choosing 21 charities from a list of 170 applicants to support each year.
"Mondays Dark will continue as long as there is a need, and our list tells us it will be around a while," Shunock says.
Past recipients span a wide range, including St. Jude's Ranch for Children, Veterans Village, SafeNest, Habitat for Humanity, Make a Wish, Ronald McDonald House Charities and many more.
Each chosen charity assists with raising awareness of their coming event, and with coordinating a silent auction table for the night.
While raising $10,000 significantly helps each charity, Mondays Dark events also provide vital exposure to nonprofits in need, Shunock says.
"We not only help them with funds, but we introduce them to our local community, sometimes for the first time," he says.
How to Help
Community members can help simply by spending $20 for a ticket to a thrilling Mondays Dark event.
"I promise you a great time," Shunock says, with the caveat that the shows are very adult, due to "language, content, language, language."
Proud of all that his nonprofit has accomplished, he also embraces how Mondays Dark allows him to experience and support his Southern Nevada community on a deeper level.
"Vegas is my home," he says. "Mondays Dark is here to help."