8/17/2020
Education and Outreach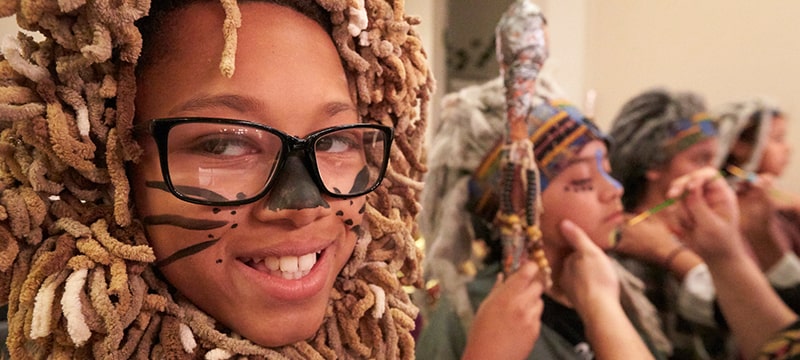 Rosa Crumpley first performed on stage at The Smith Center in just third grade.
Side by side in handmade costumes, she and her fellow students from Walter Bracken STEAM Academy performed a song-and-dance number from their elementary school's very first musical production, "Disney's The Jungle Book KIDS."
"It's an experience I'll never forget," remembers Crumpley, now 15, of learning lines, conquering choreography and rehearsing songs for the show.
This all occurred through The Smith Center's Disney Musicals in Schools initiative, which has helped over 40 underprivileged elementary schools create their own musical theater programs. This provides students across Southern Nevada with theater experiences they likely wouldn't otherwise have.
Crumpley's performance with her classmates in 2014 marked a major milestone: Theirs was one of the very first schools to ever participate in this program with The Smith Center.
And Crumpley's life — as well as those of her fellow students, and even the school's curriculum — has been significantly shaped by it.
"This experience can change a child and I think every kid should try it," Crumpley says. "They may find a new version of themselves that they never knew was there."
Taking A Chance on Theater
Teacher Cassie Barnes admits she had felt daunted in 2013 at the idea of creating a musical theater program at Bracken Elementary, especially as the first school to ever do so with The Smith Center.
"My co-director and I were extremely nervous at the thought of leading children through an experience that was not only foreign to them, but a new concept for us, as well," Barnes recalls. "I personally had no experience as a stage performer or director, and did not know where to begin."
But they were not alone.
The Smith Center's teaching artists – professional artists who provide educational experiences with their artforms - guided the school staff through every step of putting on a production.
The teaching artists lent their years of directing and choreography experience to help teach students dancing, singing, learning lines, making costumes and coordinating technical work.
"They did not take over our show, but truly guided us into finding our own directing style," Barnes says. "The truest support we received from our teaching artists was the joy that they felt when sharing their disciplines with us."
A Magical Premiere
The hard work paid off.
Exhilarated students gave multiple performances of the musical at Bracken Elementary, with friends and family giving standing ovations for the synchronized dances and songs.
"Opening night was the most magical performance I have ever experienced," Barnes says. "Watching the curtains open to reveal a stage full of an entire cast of excited children in costume, and seeing the culmination of many months of teamwork, was the most rewarding evening of my teaching career."
Children involved with the production — whether acting on stage, or helping with tech crew, costuming, make-up or advertising — made new friends, built confidence and learned new skills.
"The musical production seems to reach children in a way that other subjects do not," she says.
Changing Students' Lives
Crumpley can attest to this.
Playing a monkey in the show involved life lessons and new skills that have served her well.
After learning improvising as part of her acting training, Crumpley found this improved her storytelling and creative writing.
The production process also taught her to collaborate – and to accept and learn from her mistakes.
"The greatest lesson I learned was to take criticism better than I used to," she says. "I've been much better when learning with new people."
This experience even put her on a potential career path as a dancer or actor.
"I found a love for being on stage," Crumpley says. "Being in (the school musical) has for sure helped me with that goal."
A School Bitten By the Theater Bug
Bracken Elementary has continued its theater program each year.
"Our students fell in love with musical theater," Barnes says. "We are able to give so many children the chance to be involved in something bigger than themselves."
The students' passion for this program even led the school to develop a whole new musical-centered curriculum.
Students from second to fifth grade now study musicals and the productions' corresponding history and music. Many go on to performing arts magnet programs, Barnes notes.
"We feel that it is vital to give elementary students experience with theater to enrich their lives," she says.
The school saw a significant change in students, Barnes adds.