5/30/2019
Performances and Artists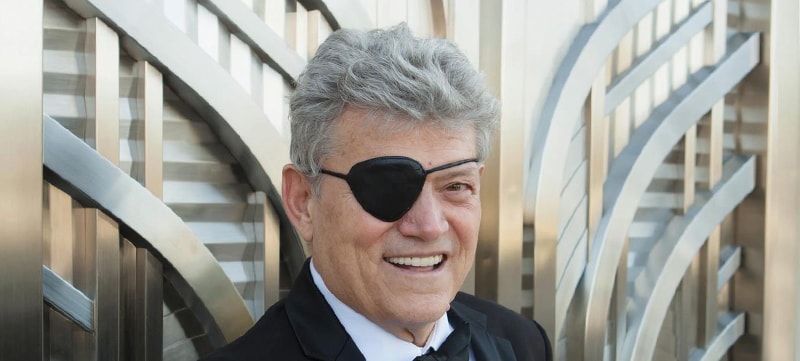 'Conversations with Norm' Show Raises Funds with Interviews of Vegas Icons
Few Las Vegas residents don't recognize the name Norm Clarke, retired man-about-town columnist for the Las Vegas Review-Journal, who became an icon in his own right through two decades of savvy interviews and coverage of Vegas celebrities.
But many may not be aware of Clarke's latest endeavor, which continues to tap into his honed interview skills and deep network of Vegas entertainers — while also helping introduce younger generations to the arts.
For the past five and a half years, Clarke has hosted a live, in-depth interview show at Myron's Cabaret Jazz at The Smith Center.
"Conversations with Norm" features Clarke interviewing Vegas' most prominent entertainers and icons before a live audience, with his high-profile guests including Shecky Greene, Wayne Newton, George Wallace, Marie Osmond, Carrot Top and the Goodmans. On June 30, his guests will include executive chefs Julian Serrano, Rick Moonen and Gustav Mauler.
His inspiration behind the show? James Lipton's intimate "Inside the Actors Studio," with Clarke focusing on his guests' formative years and evolution to their current success, with many sharing riveting and inspirational stories.
"Every guest has shared stories that touched hearts, and many were jaw droppers," Clarke says. "Every one of our guests has opened up and shared very personal anecdotes and stories that shaped them. Each has had a mix of laughter, deeply painful memories, a drive to overcome, and a will to transcend."
While this show remains a powerful draw, Clarke and his team don't collect a dime for it.
Instead, all proceeds from the shows benefit The Smith Center's Education and Outreach Department.
As a nonprofit, The Smith Center provides enriching initiatives for over 70,000 students and teachers each year, including student matinees, teaching-artist residencies in classrooms, and workshops with world-class performers — all at no cost to schools.
To date, Clarke's show has raised nearly $150,000 benefitting these initiatives.
"I had been looking for a way to give back to the community," Clarke says of why he chose to support The Smith Center with this show series. "Words can't express how it feels to see school buses pulling up at The Smith Center. (Students) will be inspired, and hopefully changed forever."
Surprising Revelations on Stage
Every "Conversations with Norm" show offers moments that stand out in Clarke's mind.
With Clarke always conducting a thorough pre-interview to establish a comfort level and help elicit compelling stories, his guests consistently offer powerful revelations.
Just a few include Terry Fator discussing his extremist father who raised his family under "cult-like conditions," Clarke recalls, or Marie Osmond opening up about the profound mental impact of being overwhelmed following the birth of a child.
"Rita Rudner, after losing her mother in her early teens, finished high school at age 15 and struck out on her own in New York City to become a dancer," Clarke adds of his favorite moments. "There have been so many inspirational examples."
Even Hall of Fame pitcher Greg Maddux, who Clarke says rarely conducts interviews, revealed a surprising aspect of his nature when Clarke convinced him to do the show.
"I recruited a secret weapon: I asked his good friend Jack Sheehan to join us on stage and assist me in bringing out Greg's hilarious side," Clarke confides. "He knocked it out of the park."
Dreaming Big
Clarke can think of a few more big names he would like to interview on stage.
Jon Gruden of the Raiders and Nate Schmidt of the Vegas Golden Knights top his list of dream interviews. So does Lady Gaga, though her schedule might be a little busy.
Clarke finds that Las Vegas remains a powerful magnet for entertainers, he adds, and he will surely experience no lack of compelling interview subjects.
"There is a rite of passage for the top stars in the world to play here," he says. "There is no other city like it on the planet and entertainers want to be part of it."