10/16/2019
Community Impact / Inside the Theater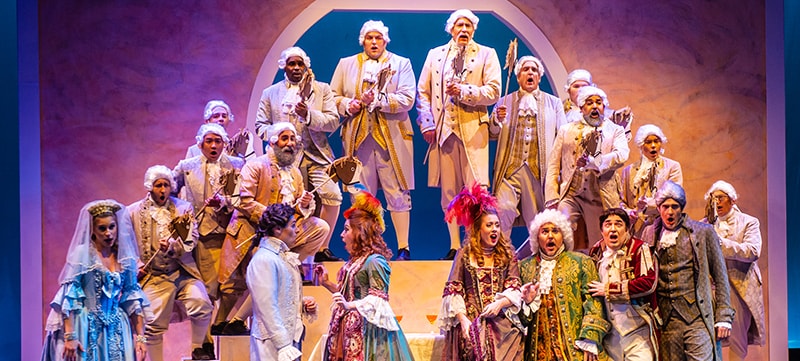 When acclaimed tenor Mark Thomsen, opera soprano Gloria Marinacci Allen and University of Nevada, Las Vegas professor Dr. Paul Kreider came together 20 years ago to create Opera Las Vegas (OLV), they had ambitious aims.
These included presenting top opera productions in Southern Nevada, nurturing promising vocalists in the community and sparking an enthusiasm for opera across the Las Vegas Valley.
Since then, the nonprofit has achieved that and beyond.
Providing performance opportunities for rising opera vocalists who have few other classical options in Southern Nevada, OLV also presents free and accessible opera programs throughout the community – exposing this artform to a wide range of audiences.
It accomplishes all this, on top of presenting many of opera's most renowned productions each year.
"I believe that Opera Las Vegas has been able to sustain for 20 years owing to the enthusiasm and support of our supporters, the high quality of the product, and the communal desire to methodically develop a professional regional company," says Jim Sohre, OLV general director.
Bringing Opera to Southern Nevada Families and Students
Southern Nevada families who believe opera falls outside their comfort zone can think again.
To help families experience opera in a relaxed and fun environment, OLV's Opera With Class program presents family-friendly operas of popular fairy tales each season.
This includes familiar favorites such as "Pinocchio," "Three Little Pigs" and "Jack and the Beanstalk." While telling beloved stories, they also feature adaptations of real opera arias (repurposed in English).
These tour Southern Nevada libraries with free admission, often garnering packed audiences.
"While audiences new to opera are being entertained by well-known tales, they are also experiencing actual operatic singing, the majority of them for the first time," Sohre says.
OLV also gives many Southern Nevada students their first opera experience through its Who's Afraid of Opera? initiative.
This involves visiting Clark County School District schools to give a narrated, 40-minute program about opera, followed with a lively Q-and-A session.
"(This program) explains opera style and composition to new young audiences, and helps them understand the artform," Sohre says.
Supporting Vegas' Rising Stars
OLV also prides itself on supporting classically trained vocalists in Southern Nevada.
"Apart from employment at such establishments as the Venetian, and a smattering of church music positions, paid opportunities for classically trained singers are quite limited in the Valley," Sohre notes.
OLV addresses this by offering solo and chorus roles at the organization's monthly events. Its Rising Stars program further provides opportunities for community vocalists to perform in fully staged operas.
By debuting challenging roles in OLV's productions, he explains, they can increase job opportunities with other companies.
"Some have gone on to national and even international careers," Sohre says.
These vocalists even perform with the top names in opera, as OLV regularly brings in leading Metropolitan Opera singers to star in productions.
"Local singers who augment the casts for these productions benefit greatly from coaching alongside working professional singers and creative artists," he says.
Celebrating 20 Years
On October 24, Opera Las Vegas marks the milestone of its 20th year with a showcase of its top stars reprising melodies from the nonprofit's most popular productions, at Myron's Cabaret Jazz at The Smith Center.