11/1/2017
Performances and Artists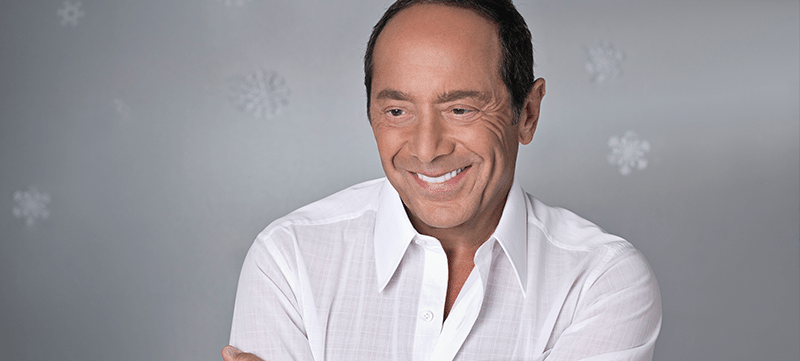 Looking at Paul Anka's tour schedule, it's easy to mistake the 76-year-old for the teenager he was when his career first began.
With concerts slated every month — almost every week, in fact — over the next several months, the revered pop icon shows no signs of slowing down.
It's all possible because of his incessant drive to create, he says.
That, and his dedicated fitness regimen.
"I don't face any time schedule," Anka says of his ongoing drive. "As long as I'm healthy, I want to keep (working). I'm in the zone now as a performer."
Preserving the Classics, While Staying Fresh
Anka juggles two worlds with his musical career.
On the one hand, he continues to perform the iconic tunes that have served as the nation's soundtrack for several consecutive decades, such as "My Way," "Puppy Love" and "Put Your Head on My Shoulder."
"The consumer is sophisticated. They know what's the flavor of the month, and what has legs to it, and they embrace you for that," Anka says of why his songs have enjoyed such longevity. "I focused on that, and it just paid off."
On the other hand, he continues to embrace new projects, including serving as a co-producer for Michael Bublé's music.
He is even exploring developing his autobiography "My Way" into a miniseries.
"I'm at the stage now where I've put my flag in the mountain. But I can't retire based on how much money or stuff I've got," he says. "If you've got the passion (to create), that's all you want to do."
Still Tied to Vegas
The youngest performer to headline in Vegas in the '60s, Anka admits he has seen great changes to the city in ensuing years.
He remembers from his days carousing around the city with the Rat Pack that Las Vegas was far more exclusive then.
"Was there an open-arms, come-hither attitude to families and kids? No," he says. "Steve (Wynn) got smart and everybody followed, and started to realize the demographic would change and that it was a business."
Running his own Las Vegas nightclub Jubilation in the '70s, Anka notes the city's most significant transformation in the role of the resort hotels.
Decades ago, no one even knew the names of hotel owners in Las Vegas, he says.
"The headliners were really the stars of the place, and the hotels came second," he says. "Now the hotels have become these villages unto themselves. The entertainment is the cherry on top, but the star is the hotel itself."
Anka still feels the tug of Las Vegas, too. He would love to do a residency here, he says.
"It's got to be the right one," he says. "That's really where I'd like to wrap it up."
Paul Anka performed at The Smith Center as a part of several past seasons.