11/4/2019
Performances and Artists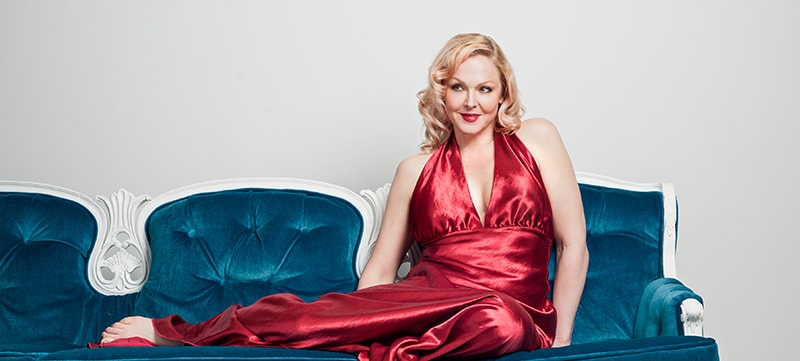 Storm Large to Perform Festive Favorites
Storm Large has finally reached just the right level of famous.
After building a national fanbase as a finalist on CBS' reality singing show "Rock Star: Supernova," Large says she was hit with a wave of stardom she felt unprepared for.
People approached the vocalist in restaurants "crying and telling me their life story," she recalls. Strangers kept breaking into her home, to the point she had to move to a building with higher security.
"Reality show fame is like you're in people's homes, and you are yourself, you're not acting, so they have this whole relationship with you that you didn't know about," says Large, also acclaimed for touring the globe as a featured artist with music phenomenon Pink Martini.
This feverish fandom has eased up at last, allowing Large to focus on touring nationwide.
Now she packs venues for what she does best: delivering her haunting vocals with her evocative, original songs, edgy humor and fiercely candid performance style.
Large promises to deliver all of this for her anticipated return to Myron's Cabaret Jazz, with her two holiday concerts Storm Large's Holiday Ordeal, on December 21.
"I'm just trying to give (audiences) a unifying experience," she says. "Nowadays with the way things are so divisive, I want to win hearts and minds in the dark. You're going to clap and laugh at the same things, and you're going to find community, safety and no judgment."
A Holiday Show to Connect With
For her upcoming holiday shows, Large will deliver showstopping renditions of seasonal favorites and classic pop tunes.
"My band gets really annoyed this time of year because I'm such a dork about Christmas," she says. "I had a couple of Christmases at my grandparents' farm, where it was set (in my mind) that hot chocolate and cinnamon, a fireplace and the smell of pine is what family should feel like."
She hopes to convey this very feeling to audiences ⁠— mixed with her razor-sharp humor, to connect through laughter and joy.
"I think of it as, all of you in the audience come from different places and you all have different ideas, but you're all here with me now in the dark, and your hearts are going to beat with mine," she says.
A Live-Saving Artistry
Raised as the only girl on a boys' school campus, Large says she chose singing in "a life-saving way," to earn attention and feel included.
Now, she aims to give her audience members that same sense of connection when she performs, she says.
"It makes me feel like this is my service," she says. "That's what live music and live performance does. It unifies and electrifies, and creates a bite-size, easily digestible community."
Storm Large performed at Myron's Cabaret Jazz in December of 2019.