12/9/2019
Supporting the Arts / Education and Outreach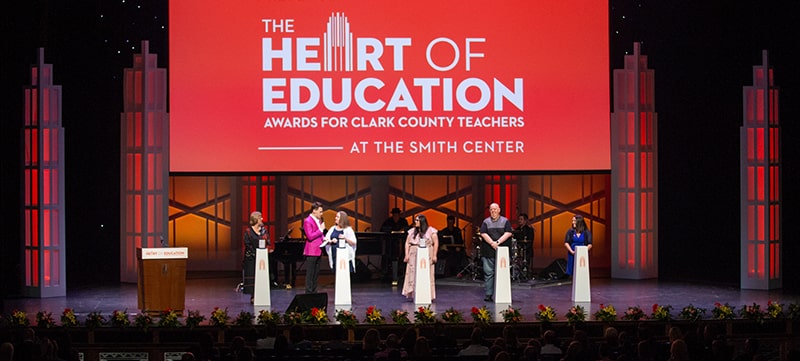 The Smith Center Welcomes Sponsorship Support
Even after nearly quadrupling choir membership at Greenspun Junior High School, teacher Heather Houchens admits she gave serious thought toward leaving her profession.
That is, until she became one of 20 teachers from several hundred finalists to be named a winner at The Smith Center's first Heart of Education Awards, recognizing educators who go above and beyond.
This validation inspired Houchens to continue her impactful work, she says.
"As a teacher, you commit your heart and do so much and work so much, and forget that people do recognize it," Houchens says.
This represents the very goal behind The Smith Center's annual Heart of Education Awards, powered by The Rogers Foundation with additional support from the Las Vegas Review-Journal.
Honoring outstanding Clark County School District teachers, this awards program aims to recruit and retain top educators in Southern Nevada, impacting thousands of students each year.
"It's a reminder that what you do as a teacher really does impact lives," Houchens says.
Sponsors Make It Happen
Sponsorship support makes every memorable moment possible at the Heart of Education Awards.
This includes the red-carpet event celebrating several hundred finalists and their guests with dazzling live entertainment, and swag bags of gifts from numerous companies.
The top 20 teachers each receive a $5,000 cash award, with a $1,000 donation given to their school.
The evening also involves a surprise keynote speaker, with the most recent event featuring former First Lady of the United States Laura Bush.
Sponsors serve as the driving force behind each of these event highlights.
"An incredible number of local businesses, hotels and restaurants came together (in past years) to support the Heart of Education Awards, because they recognize the important role that teachers play," says Beverly Rogers, chairman of The Rogers Foundation.
Seeking Sponsorship Support for 2020 Event
With the fifth-annual Heart of Education Awards occurring in April, 2020, The Smith Center welcomes sponsorship support to help honor inspiring educators.
The event offers multiple sponsorship levels, with tax-deductible contributions starting from $1,000.
"Serving as a sponsor provides an opportunity to engage with community members from across Southern Nevada, while also promoting high-quality education in our public schools," says Blue Ash, director of corporate partnerships and sponsorships at The Smith Center.
Teacher Awards Sponsor
Sponsoring the $5,000 cash awards for each of the 20 winners includes prominent recognition across numerous awards materials, media placements and The Smith Center website.
Most important, the impact of these cash awards often extends beyond the individual awardees.
Many award recipients donate their cash awards to students in need. This includes Cheyenne High School teacher Hela Naziri, who applied her $5,000 toward helping students pay for college tuition and food for her classroom pantry, which feeds many students from low-income families.
"I felt like a celebrity walking through the doors (of the event)," Naziri recalls. "When my name was called, I was frozen and I was crying and I was so emotional. It was life changing for me."
Nationally Recognized Keynote Speaker Sponsor
Also including widespread recognition, sponsoring the surprise keynote speaker provides the event's several hundred finalists with inspiration from national leaders in education.
Many teachers at the past event report being moved by Laura Bush's words, that: "young people need (educators) in their lives. They need to know that they're valued, that someone believes in them, and that their success matters. Their problems are great, but greater still is our love for our children."
Additional Sponsorship Opportunities
The Heart of Education Awards offers a wide range of additional sponsorship levels that include recognition at the event and in various materials, depending on the contribution level. These include:
Swag Bag Sponsor
School Awards Sponsor (20 awards to schools, at $1,000 each)
Supporting Sponsor
Heartfelt Thanks Sponsor
A Gift to Education Sponsor
Ticket Donor
Learn More
For more details about becoming a sponsor for The Smith Center's Heart of Education Awards, email Suzanne Chabre at [email protected]