6/14/2018
Performances and Artists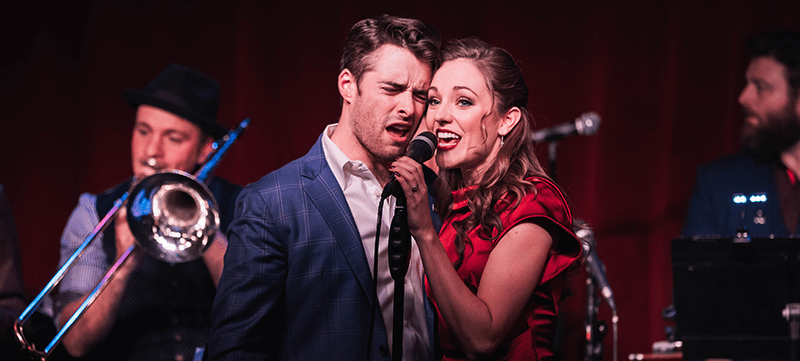 The Broadway Stars of Vegas-Originated 'Bandstand' Perform the Show's Rollicking Tunes
It isn't often Las Vegas can say a hit Broadway musical originated here… And with its original music first premiered at Myron's Cabaret Jazz at The Smith Center, no less.
But that was the stunning trajectory of Tony-winning musical "Bandstand," an electrifying and emotional musical about World War II veterans creating a swing band in the '40s — entirely composed by Vegas' own Richard Oberacker.
"It will always be the show that was written in Las Vegas. That's a cool thing to say," says Oberacker, also musical conductor of Cirque du Soleil's "KA." "It was a Broadway show written in Las Vegas that made it to the finish line."
Oberacker is still daunted at how the show made it to Broadway in 2017, with one of its performances filmed by Fathom Events that will screen at movie theaters nationwide on June 25 and 28.
For Vegas residents who never saw the musical live, they can experience its rollicking tunes on July 21 at The Smith Center, when the show's original Broadway stars will perform as the Donny Nova Band from the production.
Coming full circle, they will perform the show's original songs on the same stage at Myron's Cabaret Jazz where Oberacker first unveiled these tunes during the Composers Showcase.
"It's incredible," Oberacker says. "I hope that Las Vegas audiences and people who go to Cabaret Jazz and who have followed my work, that they come and say, 'I'm a part of this.'"
Creating a New Show from Scratch
Oberacker first hatched the idea for "Bandstand" as a theory on how characters from typical '40s musicals would act in real life.
As Oberacker and his writing partner Robert Taylor dived into research on the era — including their own family from the time — the musical "told us where it wanted to go," he says.
Pivotal for the show's development was Oberacker premiering its songs during the monthly Composers Showcase at Myron's Cabaret Jazz, a musical showcase where Vegas composers and songwriters present original material.
"I was really gauging the feel of the audience and paying attention to highlights or anything they didn't understand," he says. "I'm proud that I'm part of this group who brought attention to Las Vegas as a place you can practice your craft and create things in a relaxed and cool environment."
Never imagining "Bandstand" would reach Broadway, Oberacker was elated when the show's workshop at Lincoln Center resulted in offers from regional theaters across the U.S.
Thanks to the happy marriage of enthusiastic producers and superb casting, "Bandstand" landed a Broadway run after its successful world premiere and run at Paper Mill Playhouse in New Jersey.
"The reason we were able to jump through all the hoops (of getting to Broadway) is we were lucky to have enough people appreciate what we were doing," Oberacker says.
Star Performers Become a Band
Originating the starring roles of "Bandstand" posed challenges the cast tackled fearlessly, says Broadway star Laura Osnes, whose character becomes lead vocalist in the show's Donny Nova Band.
Not only did Osnes learn '40s jazz vocal stylings, but her costars like Corey Cott — portraying the Donny Nova Band members — had to learn the instruments they played live on stage.
"The guys went to band camp for a week. Corey learned to play the piano," Osnes says. "He's an incredible actor, and his work ethic is so inspiring."
Through all this hard work, the show's fictional Donny Nova Band felt very real, she says.
"It's that whole mentality of working so closely together in that musical aspect, and the context of the show, that all of these veterans went through this horrible thing that bound them together," Osnes says.
Part of the Broadway Show Lives On – and Comes to Vegas
What amazes both Oberacker and the "Bandstand" cast is what occurred after the show closed on Broadway last fall.
Renowned Birdland jazz club in New York City asked the "Bandstand" stars to perform as the show's Donny Nova Band, for one night only.
"It sold out in minutes," Osnes says.
The cabaret performance was so successful, the fictional Donny Nova Band — now technically a real band — returned to Birdland multiple times, and has gone on to perform the show's high-energy tunes in venues across the U.S. 
"I kind of can't believe it," Oberacker says. "Corey and Laura are as surprised as me that this spin-off from the show has taken off the way it has."
Osnes, Cott and their "Bandstand" costars will perform as the Donny Nova Band at Myron's Cabaret Jazz for two performances on July 21.
They will sing the original '40s-era-style hits from the production, plus additional "surprise" tunes, Osnes says. In between, they will share stories of the whirlwind process behind creating the Broadway show.
"This allows the show to live on," Osnes says. "We're thrilled to get out to Vegas where the show was birthed and perform on that same Cabaret Jazz stage."
The Donny Nova Band Starring Corey Cott and Laura Osnes performed in Myron's Cabaret Jazz in July of 2018.