2/1/2019
Broadway Las Vegas / Performances and Artists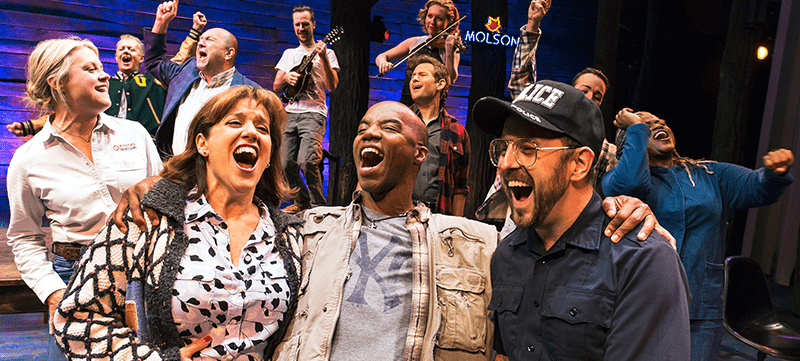 Hit Broadway Musical 'Come From Away' Portrays Real-Life Story of Humanity
The storyline of "Come From Away" might seem unlikely for a Broadway musical, depicting the real-life story of 7,000 airline passengers grounded in Gander, Newfoundland after 9/11, and how the small town banded together to make the newcomers feel welcome and safe.
Yet thanks to the vision of Director Christopher Ashley, who won a Tony for his direction of the show, this musical achieved a heartwarming and moving portrayal of humanity in the midst of dark times.
Coming to The Smith Center from February 19 to 24, "Come From Away" has received glowing critical acclaim, especially for its portrayal of inspiring real people like Beverley Bass, the first female captain of American Airlines.
Read The Smith Center's interview below with Ashley about how this incredible show came together.
How did the idea for this production even come about?
Christopher: Writers David Hein and Irene Sankoff initially received a grant to visit Gander, Newfoundland on the 10th anniversary of 9/11 and they interviewed hundreds of people – both locals and "plane people," gathering countless stories of what happened in the days following the attack. They weren't sure at the time what the end result would be, but they knew they had some incredible material that would eventually take shape as this beautiful and unique musical.
What made you want to be a part of this production, and why do you think it's important to share this powerful true story with the world?
Christopher: I was in New York City during the 9/11 attacks, and like many Americans, was profoundly shaken. When I read an early draft of this script, I was immediately drawn to telling a story about joy and kindness in the wake of such a horrific tragedy.
"Come From Away" has an enduring power and poignancy – not only wonderful storytelling with a fabulous score, it dramatizes our capacity for generosity to strangers even at moments of great adversity. (It's) a great message for any time, but especially in our current political climate.
Can you describe what was involved with putting this show together?
Christopher: David and Irene did extensive research and interviews with people from Gander and those they took care of in the days following 9/11, and many of those folks are still connected with the show – and each other.
Captain Beverley Bass has seen every production in every city multiple times and has become great friends with her on-stage avatars in New York, Toronto, London and on tour. Nick and Diane Marson (who experienced a real-life love story in Gander) have also followed the show around the country.
In 2017, the entire company made a pilgrimage to Gander for two concert performances of the show that took place in a hockey rink. That trip still is truly one of the highlights of my life. It was overwhelming to perform for the real people on whom the show is based, and to try to mirror the lives, warmth and kindness of the people of Gander and surrounding towns. The emotion in that room, between 12 cast members, a band and 2,500 Newfoundlanders was unlike anything I have ever experienced.
It's amazing how the show tells the true stories of so many people affected by these events. What are some of your favorite stories that are depicted in this production, and why?
Christopher: It's impossible to pick out a favorite, but it has been extraordinary to see the various casts from Broadway, Toronto and the national tour connect with their real-life counterparts like Beverley Bass, Nick and Diane, Kevin Tuerff (author of "Channel of Peace: Stranded in Gander on 9/11") and others. They've become one giant "Come From Away" family.
How do audiences usually respond to this show? What overall experience do you hope they have?
Christopher: Every audience member brings their own experience of the week of 9/11, and watches the show through the lens of their own story. Hopefully the audience comes away with a positive story of hope and humanity, and a belief that community, generosity and kindness can transcend tragedy.
How did you approach this show as a director, to make this story resonate with audiences?
Christopher: We cast 12 superbly versatile actors to tell the stories of 16,000 people. The company needed to be diverse to represent the various cultures, creeds, colors, ages, religions, races and sexual orientations of the participants.
We asked those 12 actors to perform a theatrical coup: transforming from character to character, shifting dialect, physicality and intention in the blink of an eye.
David and Irene wrote such beautiful storylines for these characters – composites of the hundreds of stories they gathered – creating a theatrical narrative inspired by a pivotal moment in history. While there is never a bad time to be telling a story about people being kind to each other, I believe that there is a particular resonance to our story at this time in history.
Is there anything else you would like to share about this inspiring production?
Christopher: As the actors perform a story about generosity, they are constantly helping each other out in large and small ways. Watch closely, and you will see the performers quietly passing each other props, helping with costume changes, repositioning a chair for the next actor to sit in it. This show is not only about kindness, it requires collaboration and kindness to perform.
The music is the engine of the show. I fell in love with the sounds coming from bar bands all over Newfoundland. The musicians in our show share the stage with the actors, and their rocking playoff is the last thing you hear.
"Come From Away" was a part of the 2018-2019 Broadway Las Vegas season.