9/16/2017
Discovering The Smith Center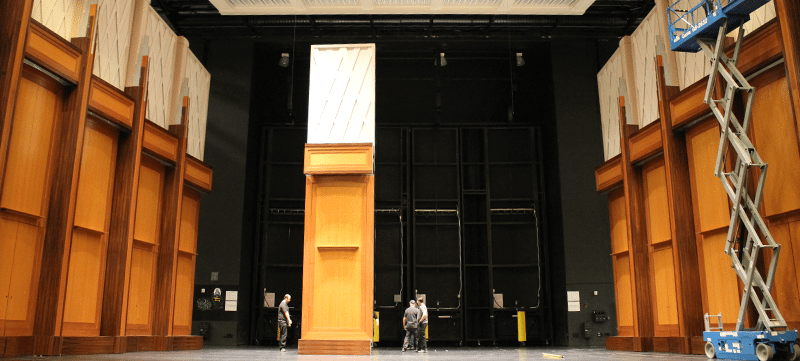 Moments of theater magic have left many audiences spellbound at Smith Center shows.
Favorites include when the "Phantom" chandelier swung over audience members' heads — and when Elphaba appeared out of thin air in "Wicked."
Little do audiences know, The Smith Center was specially built to make this magic possible.
Designed with the most elaborate productions in mind, Reynolds Hall boasts a versatile infrastructure custom built to accommodate any special effects, specialized props and more.
You can learn about just a few of these secrets below.
"We can do anything here," says Joe Urbauer, head rigger/carpenter at The Smith Center. "Shows love us, because we don't like to say 'no.'"
Surprises from Top to Bottom
Every inch of Reynolds Hall holds special secrets. Even the ceiling.
This was built with specially reinforced beams, Urbauer says, to support props of any size, including the "Phantom" chandelier.
"The whole building was built heavy duty, so we could hang a lot of weight from it, just about anywhere," he says. "Including above the audience."
The stage has surprises, too.
An 1,120-square-foot portion of the stage, known as the "trap," can be removed either in small sections or all at once to create a hole of any desired size.
This is ideal for an actor who must suddenly appear — or disappear — through a trap door.
"At the end of 'Wicked,' that's how Elphaba appears — she comes up out of the floor," Urbauer says. "We could also remove (the whole trap), say for auto shows. It's not unusual for a whole truck to come up from underneath."
Disappearing Seats and a 100,000-Pound Shell
Many aren't aware that the two front rows in Reynolds Hall – roughly 78 seats – can disappear, too.
The push of a button will cause the seats to lower down 19 feet and drive forward into a storage compartment beneath the stage.
This can provide space for either the orchestra pit or the thrust stage – an additional section of stage that shows use in many ways, Urbauer notes.
"The thrust stage can lift 65,000, so it can lift a full semi-truck," he estimates.
Those who enjoy philharmonic concerts at The Smith Center likely don't know the massive orchestra shell behind the musicians — which enhances acoustics — is also part of the Reynolds Hall design.
Weighing a whopping 100,000 pounds and built of fiberglass and steel panels, the shell ceiling extends and retracts automatically from a custom storage area above the stage.
"It lives permanently against the back wall," Urbauer observes, noting that lower panel sections are carefully moved from a separate storage area. "You can move it with the push of a button, but nothing moves around here without a lot of eyes on it."
Everything A Show Could Need
The Smith Center's design even accommodates productions from the moment they roll up to the facility with semi-trucks full of equipment, props and set pieces.
Backstage offers a spacious loading dock with automated lifts where trucks can unload.
This leads straight to 14.6-by-12-foot doors that conveniently open directly onto the stage.
"If a truck comes in with a 50-foot-long piece of anything, we can roll it right off the truck and right into the theater," Urbauer says.
The Smith Center offers plenty more amenities for productions, including a laundry room and storage areas full of plywood, rigging, costume steamers and other items shows might want to borrow.
Urbauer isn't surprised when show managers describe The Smith Center as their favorite venue.
"Shows hate leaving," he says. "They go to a lot of places that don't have these resources."